2019 Feb 27 - Part 4 – The Grandparent Parlay
2019 Feb 4 - Part 3 – Plan 2.0
2019 Jan 17 - Part 2 – "Perfect" Plan(s)
2019 Jan 10 - Part 1 – Proposal
2019 Jan 4 - Paul's Dream is Renewed
2018 Oct 11 - A Dream Delayed
Quick Overview:
The Dates: Oct 26 – Nov 3 (8 nights split between Boulder Ridge and Boardwalk Villas)
The Cast: Me, DW, DS4 (DS5 on 11/12), DS3, DD1, GG/PP (DW's parents 1st half of trip), and GM/GP (my parents 2nd half of trip)
The Stage: 3.5(ish) days MK + MNSSHP, 1.5 days EP, 1 day AK, 1 day HS
The Plot: ProphetPaul's once-in-a-lifetime trip to celebrate DS3's Cancer victory
ADR day really snuck up on me! Life has been exceptionally hectic for me the last few months, but I won't bore you with the details. I just wanted to share briefly my ADR mastery.
As I scrambled to organize my plans last week, it became obvious that there were too many variables to have a single, solid plan by the time I would be booking ADRs. Will later-than-normal bedtimes be doable for DS4/DS3? Multiple or single nap routine for DD1? Will GG/PP and GM/GP tolerate very early mornings? How will SW:GE change things? And on and on. I ultimately decided that on each day of the trip, I needed a backup to give us flexibility until we decided for sure what we want to do (or at least plan to do).
There were about a dozen ADRs on my wish list:
Chef Mickey's for early breakfast (7AM) to get into MK early for RD
HEA Dessert Party for convenience of the garden viewing area
Tony's for VIP parade package
Be Our Guest for dinner to meet the beast; aimed for 5:55 on party night (on night we're not going), with idea of extending our time in MK
Tusker House for ROL VIP package; aimed for 10:30 for breakfast/lunch switch over
1900 Park Fare for breakfast, then monorail to Epcot
Biergarten and Via Napoli for fun Epcot meals
Hollywood & Vine for the Fantasmic! VIP package
Garden Grill breakfast to RD Soarin'
Artist Point for dinner; DS4/DS3 love Snow White / 7D
CRT for the grand finale dinner
Cape May Café for brunch on last day to say farewell to Minnie and co; also refueling after half marathon
What I ended up doing in most cases was booking the same thing multiple days in a row so I could swap my days around if needed. In other cases, I booked the same thing but at different times (e.g., breakfast at 0700, 0730, and 0800) to give us some wiggle room on exact timing. I know, shame on me for my ADR hoarding. I promise it won't last long.
The process of figuring out these continencies forced me to think pretty hard about our itinerary, and I've come up with something that I feel pretty good about for now. So even though I initially booked a ridiculous number of ADRs (42 to be exact!), many of them will be canceled soon. I just need to discuss my ideas with family to make sure everyone's on board. I will probably end up with 10-12 ADRs in my final plans.
Well, I don't want to get too into the weeds about ADRs or itineraries since they will most certainly change, so I've just posted screenshots of everything below. Really, I just wanted to gloat about my absurd abundance of ADRs and show off my beautiful spreadsheets
. Actually, my itineraries are created in Powerpoint, which I like because it's more of a "canvas" that I can move things around on without the constraints of rows and columns. It also gives me the option to move things "off" the page. I do this if I want to see something, but not on the actual itinerary (like alternative plans or just some general notes). For now, my "detailed itinerary" is extremely messy. It will probably make your head spin and eyes cross. Over the next few months it will get cleaned up and look more like the simple version, just with FPs and other details.
A quick note about the itinerary – I know some of you will say I'm going to run my kids ragged. You might be right. So, I'm trying for activity-packed mornings, long afternoon breaks, and flexible evenings. I have tentatively booked some late activities, like HEA dessert party and MNSSHP. I'm taking a gamble on those. I should have a better idea of what my kids can handle in the fall.
Without further ado…
ADR Mastery

"Simple" Itinerary
Explanation/Legend from a previous post…
Detailed Itinerary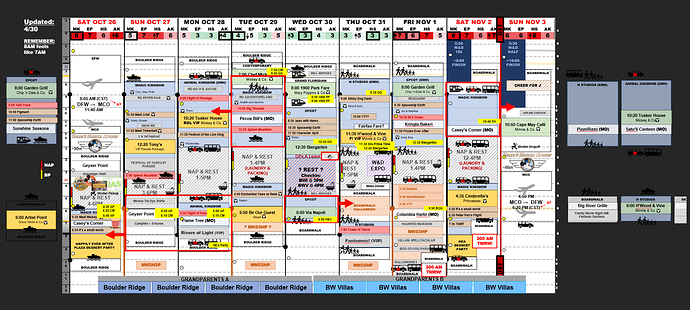 I've also included links to the files in case anyone wants them (I know they've been requested before). If you have any questions, feel free to ask.
Files for Download
Some of the formatting looks screwy on Dropbox, so I recommend downloading the files.