THE BASICS
Our party was three women—my sister, my daughter, and myself.
The three of us together last visited WDW, with additional family, in 2002.
I also visited WDW in 2006, with my son.
My daughter spent one day at MK, with her grammy, in 2017.
The three of us, plus my mom, visited Universal Orlando for several days in 2017.
This visit:
Flew from Newark to MCO.
Seven nights in a balcony room at the Dolphin Hotel, March 29 thru April 5.
Seven-day park-hoppers at WDW, one day at Islands of Adventure without Express Pass.
I doubt you're interested in the blow-by-blow of our itinerary, but here's my spiffy schedule spreadsheet anyway:
THE DOLPHIN HOTEL
Nice hotel, beautiful pool complex, great location. Service was lackluster, but maybe that's true across the board these days. (I've stayed at only one other hotel during the pandemic—Hotel Monteleone in New Orleans, May 2021—and it was a pleasure.) On the plus side, we got an Epcot view, with fireworks, that we didn't pay extra for (at least, I hadn't agreed to pay more for it—haven't seen the bill yet).
TRIP HIGHLIGHTS
Hagrid, Hagrid, Hagrid. The best ride in either Disney or Universal, and my favorite ride ever. For all three of us, it was our first time, and we all absolutely loved it. We waited in our longest line of the trip (over an hour) and then rode again later via single rider (maybe a 35-minute wait). We would have done a third if we'd had more time. I don't think I can visit Orlando again without riding it. I wish there were a separate admission fee just for Hagrid; I'd easily pay $100 to ride it three times.
Soarin'. I rode this on my 2006 WDW visit, but I don't remember it being as wonderful as I found it this time. Maybe it was just a matter of expectations-setting. On this trip we rode it twice, on two different days, and it was just delightful both times. Definitely in my top 5 WDW rides.
Pandora at night. Do not miss this. Plan vacation dates around this. It's spectacular. I recommend arriving in the land before dark and watching the lights and bioluminescence slowly reveal. Magical.
Kheer at Sanaa. This dessert—coconut rice pudding with cashew streusel and saffron-poached fruit—was on another level. The hostess had highly recommended it (she doesn't even like rice pudding or coconut) or I wouldn't have ordered it. I now regret not eating every single molecule of it—the portion was generous, and I was full from my meal, but I should have forced myself. (My lunch companions weren't as blown away as I was, so maybe I'm overselling this.)
Our waiter at La Cava. I'm sorry to say I didn't write down his name. We think it was something like Barbes. The bar was super busy but he took time to chat with us and made us feel special. He brought a small bowl of crispy-fried crickets with our drinks, and of course my daughter tried one, and of course neither I nor my sister would. Then Barbes(?) stopped by again and asked how we liked the crickets, and my sister informed him that there was no way on god's green earth she was eating a cricket. B offered to pay our tab if Sis would eat one (we'd already offered her 50 bucks) but no dice. He was so enthusiastic and adorable I ate a cricket for him (no strings attached).
Weather. We had mostly lovely, warm, breezy days. Our Islands of Adventure day threatened to be a wash-out, but the rain never really materialized. There was one rained-out afternoon and night that didn't spoil any critical plans, and our last full day, at Epcot, was fairly hot and humid (by my standards, not Florida's). But overall, we were pretty lucky. Great pool weather.
Dolphin pool slide. It's basically a wide corkscrew and doesn't look like much (in fact, most of it is hidden from the outside view by sculptured rock) but it's really fast and fun. More fun than most of the park rides we rode.
Super Zoom Magic Shots. I'm surprised these don't get more promotion and attention. They're very cool.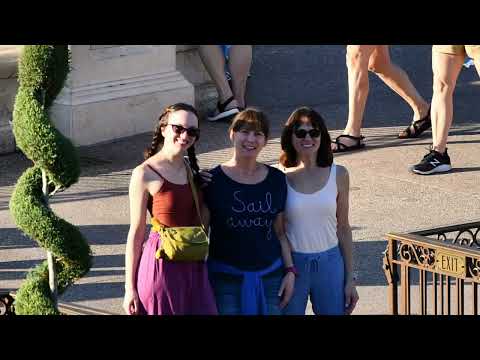 TRIP LOWLIGHTS
My favorite Disney ride, Expedition Everest, being closed for refurbishment .
The maze of construction walls in the area FKA Future World.
The mobbed park entrances to MK and HS on the two days that we arrived around opening time.
The increasing reliance of rides on video simulators and 3D glasses.
The time the night latch flipped over on our hotel room door as we exited and we were locked out of our room for several hours (security was supposed to take care of it while we were at the pool but it was still barricaded when we returned in our wet bathing suits ).
The flight home, which was delayed at the departure gate for 90 minutes while we sat on the every-seat-filled hot airless plane in suffocating masks.
WHAT I REALIZED ON MY THIRD PARK DAY
I didn't need to keep bringing up the Disney MagicMobile Pass on my Apple Watch (double-click to open wallet, scroll scroll scroll to the Disney pass) every time I tapped in to a park or LL. Just had to hold the watch face to the scanner like a Magic Band. D'oh.
GENIE PLUS EXPERIENCE
What can I say, I liked it. I have no history with Fast Pass Plus so there's that. Genie Plus beats the old paper Fast Pass where you're running around the park like a maniac collecting tickets. And it beats waiting in line.
Not that it doesn't need lots of improvement. The app is a complicated mess—needs a serious UI overhaul. We need to be able to choose from at least a few LL return times spread throughout the day, not just the next one available—and the time we choose needs to be saved for at least a minute while we finish booking.
I think the $15 price tag is fair. For savvy Liners, it's even a bargain.
We used Genie Plus for 4 out of our 7 park days, and didn't regret it, even on the day when we got only 3 LL's.
We were very successful at getting bookings for the two big Genie kahunas, MK and HS. Below are the LL's I noted in my Touring Plan; it's possible I missed recording one or two. I was fairly on top of the bookings, but didn't need to sweat too hard to get these. The March 29 bookings were slightly hampered by not having wifi on our flight that day.
MAGIC KINGDOM, March 29, crowd level 8, stacked for evening
HOLLYWOOD STUDIOS, March 30, crowd level 7, stacked for evening
We also used Genie on a full day at Epcot to decent effect, but I didn't record which rides (Test Track was definitely one), and to lesser effect on our HS-to-AK park-hop day.
MAGIC KINGDOM RIDES I RODE THIS TIME BUT COULD SKIP ON FUTURE VISITS WITHOUT REGRET
Space Mountain
Buzz Lightyear
Monsters Inc Laugh Floor
Peter Pan
it's a small world
Jungle Cruise
Pirates of the Caribbean
NEW-TO-ME RIDES THAT I FOUND OVERRATED
(I would ride all these again, but not more than once per trip.)
Seven Dwarfs Mine Train
Remy's Ratatouille Adventure
Rise of the Resistance (@len got my hopes way too high for this)
Flight of Passage (would be a favorite if they fixed the projections)
PLEASANTLY SUPRISED BY HOW MUCH I LIKED THIS RIDE
Mickey & Minnie's Runaway Railway
MERCHANDISE PURCHASED BY SOMEONE WHO'S NOT BIG ON MERCH (BUT LIKES ALICE-IN-WONDERLAND AND TEA)
RANDOM TAKEAWAY IMPRESSION
Disney World is Very Clean.
AND A WORD OF THANKS
I really, really appreciate all the help I got from you Liners here in the Forum and in Chat. Wouldn't have had nearly as much fun without all your tips and recommendations.