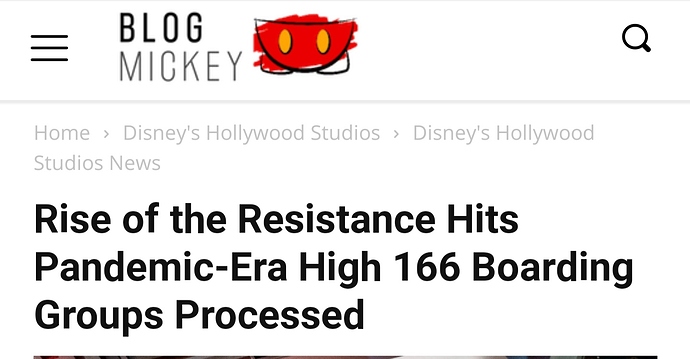 https://blogmickey.com/2020/12/rise-of-the-resistance-hits-pandemic-era-high-166-boarding-groups-processed/
Nice! It's had quite a streak this last week or so ever since that say where it didn't open till the afternoon. I suspect they fixed something.
It appears they reached around 180 Boarding Groups called the last two days!

Also, I hadn't noticed this before. It certainly pays off to get an earlier BG.
Looks like they call all remaining BGs pretty fast in the last hour or two!
It's been a while since I've updated the BG stats, so here goes!
Distribution
Distribution will be 7am and 1pm going forward (not 2pm). Make sure check out this great thread by @bebe80 for step by step instructions on getting a BG!
Processing Rates
RotR's operations had improved pretty steadily from July until the end of November, but then RotR had a horrific week in early December (around the time all our Liners were there). But they seem to have fixed something after that, because BG processing rates skyrocketed to levels never seen before and have remained there ever since. An average day now sees ~16 BGs/hr processed, with <14 being a "bad day." Previously 14 BG/hr would have qualified as exceptional.
Delays
Along with installing plexiglass, fewer delays has been the key to increasing capacity and throughput.
| Week | Delays / day | Min / delay | Total downtime |
| --- | --- | --- | --- |
| July 15th | 4.4 | 37 | 1150 min |
| Oct 1st | 2.6 | 29 | 530 min |
| Oct 14th | 2.4 | 29 | 500 min |
| Nov 9th | 2.7 | 28 | 525 min |
| Dec 22nd | 1.1 | 29 | 230 min |
Downtime
Other than that bad week in early December, RotR is now running over 90% of the time on most days. Downtime is as low as 3%, averaging maybe 7% (note: this may capture cleaning cycles since a "delay" is measured as any time a new BG is not called for more than 15 min).
To sum it up, now is the smoothest RotR has been operating since it opened over a year ago. Let's hope that trend continues!
Had a weird, disappointing experience with RotR today, I already have a love/hate relation with this ride, from prior experiences
We were able to get BG 5, which was called 15 minutes before 9am actual park opening.
At RotR, no "Rey" pre-show, and our group was ushered past the resistance shuttle, down a Hall directly into the storm trooper landing bay, so no shuttle pre-show either. Big let down for the two in our party who haven't been on this ride, and big let down for us who have experienced the complete ride. From there, ride was great as normal. It was a frustrating, un-necessary arrangement to by-pass two pre-shows.
The only good thing about seeing a glimpse of this back stage area, i now have a much better idea how the resistance shuttle operates to drop you off into the storm trooper bay.
Sad! I'd be curious to hear if others have had this experience recently or if it was a one-off.
I think I read this another thread. I wouldn't like that at all! I guess something was down and they didn't want to close the whole ride? Still, I would be really disappointed.
This happened to my crew the first time we rode it.
What date time frame was your experience like this?
It was almost a year ago. Late February 2020…early afternoon maybe. You're right. It was a disappointing experience and none of it really made sense. My brother's family was down there at the same time; I had no idea we missed so much until he was telling me about their experience and my head almost exploded. I knew something was up with our ride because we walked through a hallway with acoustic ceilings which didn't really fit the Batuu theme.
Rode it again last fall and got (I think) the whole experience, including the shuttle onload/offload which was pretty cool.
Great news - the 1pm virtual queue for RotR was open for over an hour today!
I … can't believe it!
This actually seems to be the beginning of a trend! Most days the distribution Open and Distribution Closed dots are on top of each other, meaning the BGs are gone in seconds. But for the last two days, there is some space between the two dots for the 1pm distribution window! I'll be watching this!
Wow!
wicked!! I'd be interested to know what's different to cause that to happen. It seems coincidental that park hopping also just started. I know there are restrictions around hopping and the 1pm drop, but I'm wondering if they're holding back 7am slots to use at 1pm, knowing early park guests are leaving and new guests are ineligible for a BG
I think it's something like that. My guess is that before park hopping, everyone who came to HS was captive for the whole day and so they'd want to get a BG. They'd all try at both windows until they got a BG. Now, say, 1/3rd of the guests are hopping, so if they don't get a morning BG (or a BG at all), they won't try for an afternoon BG. That leaves capacity for those who are dedicated enough to stick around, and none of that capacity is going to hoppers coming to HS.
My current plan for our July trip has us going to HS on our arrival day. My sons' first coaster ever was SDD, I'd like to continue (start?) the tradition with DD3. Plus we're staying at BWV, so it'll be easy to get over there. Back to the point though, our flight doesn't get in until after 4. If I don't get a BG at 7am, am I eligible to try again at 1pm even though we haven't tapped into the park yet? Thanks!
You have to be physically in the park at 1pm to apply for the second set of BGs. Only the 7am set can be applied for from outside the parks. Sorry to be the bearer of bad news.
(Other requirements: your park reservation has to be for HS and it has to be the first park you have tapped into that day. More at the link below)