No way, dude - I voted my first choice. I'm okay standing alone!
Emperor's New Groove is great! It's hilarious and touching. It's not quite as epic or artistic as some of the others, but some days that's just what you need. It's very rewatchable.
I think Pacha is one of THE best Disney dads.
He is! My in-laws have a thing where they always look out for "good dad movies." There are very few of them, particularly in Disney for some reason. The dad is always absent (Bambi), mean (The Little Mermaid), a deadbeat (most mainstream movies), or dies (The Lion King). Of course, a lot of them turn around by the end, or have good traits (can't hold it against Mufasa that he is murdered, of course). But it's good to have some movies where there's just a dad being good! (I like Julia's dad in Luca, btw.)
I mostly like Mr. Incredible. But the lying grates on me.
Have you watched Flora and Ulysses?
King Triton is mean???
I thought he was just exasperated. He comes through for her when she needs him to!!
I watched that on your recommendation. I really enjoyed it.
Yes he's one of the ones who "turns around by the end."
And to be fair, it's totally normal for a character to have flaws and make mistakes, as long as they learn from them and grow. So Triton is a great dad, IMO.
I have! I don't remember the story very well, other than the girl and the squirrel.
Yes - and the dad was a decent guy IMO.
That movie will always have a special spot in my heart bc we discovered it during our two weeks in a rental house after leaving our life in NY and before we could get into our new house. We needed ridiculousness and the laughter penetrated the tears. I think we watched it maybe 10 times in two weeks.
I'm surprised how many non-DIsney films we've watched in the last year and enjoyed. Wonderland was better than I expected. The How to Train a Dragon trio were a lot of fun. Ferdinand - I missed the last 10%, but loved the first 90%. Red Shoes and the Seven Dwarfs was very good.
I'm not sure I'll rewatch any of those either, but we've enjoyed trying new things.
Okay…so, my wife and I watched Bambi (in my case for the very first time) only a few months ago. Yes, yes. I had never seen it, despite knowing that the mom dies and all that. But here's the funny thing. All this time, I thought Bambi was a girl. I mean, the name "Bambi" is seemingly only ever culturally used to refer to a girl. So…I was shocked to find out Bambi, this whole time, was a boy! I also found it disturbing NOT just that Bambi's mom dies…but that she ends up being someone's dinner.
I mean…what in the world! This movie was AWFUL (in terms of the implications of the story)!
The story itself is pretty awful lol. But I enjoy the movie and the characters and animation, etc. It's a beautiful gem of a film.
I agree with you…but after waiting 48 years to watch it…I was shocked at what it actually was about!
I don't find the story that awful, living in a heavy deer hunting and venison eating area. Circle of life. I don't tend to feel bad for deer.
Yeah - it's kind of funny how it all plays out. It was probably Disney just showing off what they could do animation wise.
I do like the story.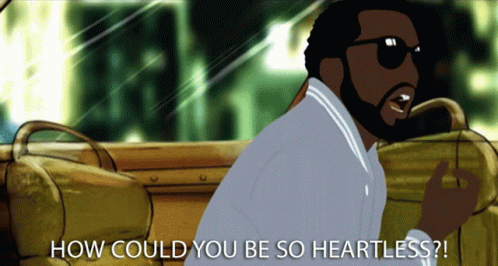 I loved the dad in Turning Red for exactly this reason.
The final round is live! Go vote: