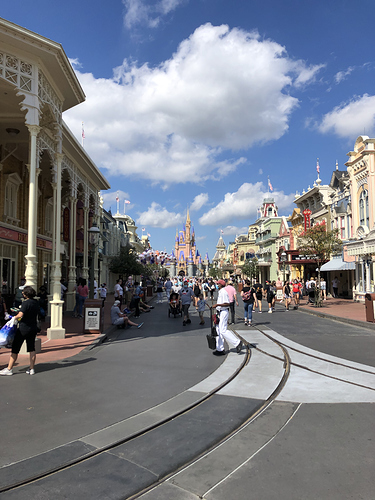 I bet @Dreamer @Randall1028 @Wahoohokie have some good ones since they went soon after reopening
I was going to say there are probably a ton of great shots in Trip Reports (I got motion sick trying to fast scroll a few of them…maybe someone else will have better luck.)
(Whispering)
(Perhaps before we design more shirts we should get the ordering issues resolved with the ones we already have in the works?)
If it's going the way everything else is, it's not gonna get approved.
Just tried to create an Apple Watch band for myself.l using my personal account. Denied.
I'd like to know how others have obviously disney stuff on their pages but can still get things made.
Just dropping back into this thread to share that I received notice this morning that my shirt is ready to be shipped and is awaiting pickup by the courier.
Not sure why this one got through without issue, but in case there is something anyone on the Team or Zazzle themselves can identify, I thought I would come back to share this update!
You're welcome!
Any word on the status of the other things that have been rejected? I'd like to go about ordering a few more things but have been waiting to see what happened with this order (which seems to be fine) and to get an update on what's the situation with the other designs.
Zazzle will not talk to me so I forwarded their email to Len.
Although I think @Randall1028 was impressed that they told me they would t talk to me?!
I'm totally bummed that I can't get the AK shirt in women's in fatigue green. It's the perfect color.
Yeah the women's color choices are seriously lacking
That…isn't what I meant. I was saying I'm impressed they actually TOLD you that they wouldn't talk to you instead of remaining silent (which is what I've experience for the several emails I've sent them with questions).
Lol- I hope they tell you they won't talk to you!
Are any of the orders working? 20-50% off today for my sons' store for Black Friday in July sale.
Far as I know, everything that is currently up is fine. Course, that may change once the order is fully placed? Zazzle doesn't really let anyone know it's a problem until you've already committed to a buy.
While there was a lot of chatter, only 3 designs were flagged, and short of the sse one, they've been fixed so there should be no issue.
Fabulous.
We just signed up for a year of "free" shipping ($10/yr) so it sounds like the perfect time to buy!!
Good luck! If any get flagged, let us know!
My shirt just arrived. I am a little disappointed in the placement of the logo in the front - it's a bit low - but otherwise it's perfect. The placement of the badge on the back is just right. And sizing is suitable (this is a women's large v-neck)
Yeesh. That IS low. I guess the "breast pocket" has different placements depending of the style of shirt.
It's also smaller than I was expecting. The logo should be about 3 inches square. Hmm