There is some speculation that the headband is also related to wearing a Mandalorian helmet and its heads-up display (HUD).
Caught up with Mando.
Did they learn nothing from last week's episode with the giant sea crocodile? What did they think was going to happen when he went into the water? A relaxing bubble bath??
I found this episode a tad slow, but there were cool bits. Seeing the real live creature that has the skull of the Mando logo was kinda cool.
R5 being a shitebag was amusing. Although I'm unsure of the point of sending the droid in to check for danger and then following them in when they indicate danger
I was a bit scared of the Morlock-types and the General Grievous offspring was a bit scary too.
Grogu rocked as usual. I love that his pod has a headlight
Who's got money on a talking Grogu being the top of the Christmas lists this year??

Pelly (is that the mechanic's name?), spoke impressively flawless jawa

Nice fireworks
Oh and prompted by @GeneralOrgana's (appropriately) comment on the uncensored thread, I thought of @OBNurseNH being happy that the bathing happened fully clothed.
I had expected some Adam Driver-style attire for that scene.
Oh I was just reminded of something! Does anyone else think the eyeball in the robot(s) is going to turn out to be one of Bo's relatives?
I just watched today's episode of The Bad Batch. @Broph1988 and @Jeff_AZ , I was a bit disappointed after the tension of last week's. But, there are a couple signs that something might be changing. This could very well be the lull before the storm. Only 3 episodes left!
Just watched Mando.
Not a great episode. I'm sure it's building plot but, am I supposed to know who these people are? The woman was in the previously on, but I don't remember her! I assume she is still working for Gideon as a spy and melted the dude brain because he remembered her.
I did love when he said "it was a trap" to the Mon Calamari though
I don't think you're supposed to know her. She's just supposed to be someone we are slightly suspicious of because we know she worked for Gideon. Which worked well for me - I kept going back and forth whether to trust her!
Very interesting episode IMO. I love Coruscant so much, so I'm always happy when it makes an appearance. This was a Coruscant feast.
I share all your sentiments and have nothing to add
Yeah that's right. FWIW I recognized her, but she is basically just a background character in those previous episodes. (She knocked it out of the park in this one as far as I'm concerned.)
I really enjoyed the opening sequence. Top Gun: Mandalorian
loved the opening and thought that this feels like Mando again, then it took a weird turn. Felt like they were going for Andor vibes but without any of the suspense and poorer writing and acting. I hope this is building up to something important.
It did kind of have a feel of being 2 episodes into shooting, and seeing the reaction to Andor, deciding to pivot. Maybe that's why the "I need this part to rebuild my droid" thing was dropped so quickly (kidding).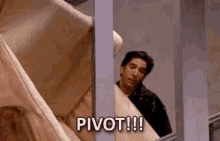 That's exactly how I said it in my head when I typed it because I am Of That Era.
Well they filmed all of this before Andor was released, so I think it's just a coincidence, though I'm sure the two production teams were sharing ideas for aesthetics and design.
This was a very quirky episode – I don't expect it to appeal to everyone. But it was great for me!
Oh I liked it too. I also don't mind that I have no idea where this season is going. But I also like poking fun at it.
DH and i finally watched the latest episode of The Mandalorian. I liked it. I agree that it has a lot of similarity to Andor, with the separate scenes with different people, the cubicles, and the apartments. But one of my favorite scenes was when Dr. Pershing and Elia Kane were eating popsicle treats while wandering in Monument Plaza on Coruscant, and the background music style reminded me so much of the theme from the Epcot attraction, "Honey, I Shrunk the Audience." That old theme is part of the Epcot entrance music loop I like to listen to on YouTube. I was glad the episode got back to Din Djarin and group at the end. Even though there has been criticism that this season seems to wander, I think it will eventually tie these things together. I look forward to seeing how this season goes!
I did enjoy the Top Gun part of the episode quite a lot
Yes!
[
Fun fact: this was a remix of John Williams' March of the Resistance from The Force Awakens!