There's likely only 5-10 minutes before boarding at that point.
VelociCoaster has opened for UOAP previews! Reviews are unanimous in praise of the ride but it is INTENSE. This is a coaster fan's coaster with lots of airtime and thrills.
I've been browsing the coverage on social media and I can't wait to ride! If it doesn't soft open on the days I'm there I may have to sneak back later with my AP that I bought.
My son sent me a link to Len's tweet this morning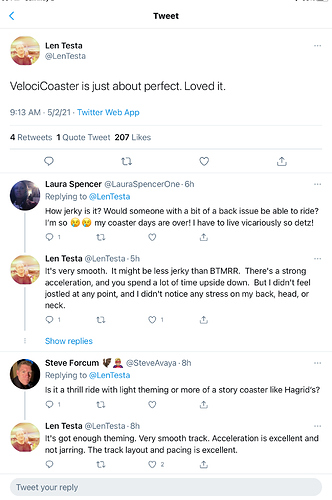 Link
https://twitter.com/lentesta/status/1388844039781462019?s=21
Once upon a time this would definitely been our thing, but even if we fit I don't know if we could handle the ride anymore. Getting older can really stink. Oh well.
I'm expecting technical rehearsals to start today unless something occurs.
Technical Rehearsals have begun!
So…from the photo, it looks like people just mob the ride? It doesn't appear they are using VQ.
Do you think as long as it's functioning it'll be open during Orlando Informer Meet Up or will they not want to pay for the extra staff/power costs?
Here was their response:
Jurassic World VelociCoaster opens June 10 at Universal Orlando Resort and is currently in technical rehearsal. Please note, during technical rehearsal, the ride will be open on a limited, unscheduled basis and some elements of the attraction may not be available.
We currently do not expect for this attraction to be available after-hours at our June 4-5 Orlando Informer Meetup. Technical rehearsal during the day is possible, but not guaranteed. We'll continue to share any news on our social media channels, and we'll still have a great time at the OI Meetup either way!
Edit: So sounds like you might be able to get in line first thing at the 4pm open and use up your entire early entry time to ride it but once the regular park closes they will be closing it
To see what TP thinks the wait will be the next Friday at 4pm for grins:


So it would eat up all of that early entry time but maybe doable.
EEEKKKKK!!
I'll be there May 27th! Now the ultimate decision: do I rope drop Hagrid's (no early entry that day) and go for the sure thing or push my luck and just hope the ride will be running?

decisions, decisions!
The good news for Hagrid:
https://twitter.com/theugseries/status/1391042779384528907?s=21
Also I've seen that Velocicoaster's wait has come down to 75 min.
Yes! Everyone go to VC!!! (While we do WWoHP)!! We don't even plan on riding Hagrids unless we are surprised by fitting in the test seat. Go to VC!!! Go to VC!!!
Yeah. I have been monitoring VC. Assuming the wait time estimate is accurate, most if the day it has been close to 75 minutes apart from the initial rush earlier in the day. I am getting hopeful we will end up getting to ride it. Waiting 90 minutes for VC is definitely doable. I will wait 2 hours for Millennium Force or Steal Vengeance at CP.
I haven't really noticed Hagrid's wait times being less, though.
I'm thinking the same for our OI Meetup. If it's 2 hours or less I'll do it during the early entry part and unless you can rush there it looks like the line is shorter in the PM than first thing.
Went on it this morning. Posted 45 mins wait when we got in line. Jumped to 75 mins while we were in line . We were on at 1 hour exactly (10:15-11:15) from the time we entered the line. The line moves the entire time - very cool
.
Since we won't have early entry, we will probably wait until early afternoon to ride.
Strange. 9:45 am on Monday, and Hagrid's has a 60 minute wait, but Velocicoaster only has a 35 minute wait!
Either people are afraid to ride this thing, or they are pumping through a LOT of riders per hour on that thing. Either way, I'm happy because I was afraid it was going to cause lines to go way up, and we'd have zero chance of riding it for a Soft Opening. So far, that doesn't appear to be the case. We will be there, feet on the ground, in 1 week from today!