They were pretty good! The second batch came out better; these were a little too thick.
Yule Mule Bar
(Unrelated to my trip report, strictly speaking. Maybe I need to start a Cocktail Report.)
Can it come with delivery service?
Nah, that's the second best way; the best way is to leave it for weeks at a time before continuing with the wrap-up you promised.
Notes on Pop Century
This was my first stay at Pop. I chose it for the Skyliner access, and that did turn out to be its best feature, but I really liked other aspects of the resort too.
Here's how I was introduced to the vibe, right at check-in: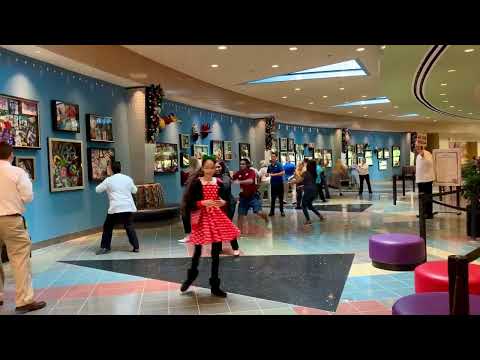 My room was at the far end of the 70s building, overlooking Hourglass Lake:
Right around that corner was a staircase, much closer than the elevator. I could get to the Skyliner in under 3 minutes that way. Coming back up was a little less inviting since I was on the fourth floor, but it was doable.
Very minor gripe: I hate how the building names don't match the room numbers. Rooms in the 70s building should start with 7!
I loved my room. Spiffy clean, very comfy bed. Me, I like the minimalist look—I know that's not for everyone. I think the Mickey head wall decor over the bed was the only Disney theming. Lots of thoughtful storage; I didn't even use it all since it was just little ol' me—so luxurious to have it all to myself. (The clothes closet is tiny, but fine for one person.) I wouldn't hesitate to book this type of room with a companion (there's a Murphy bed), although I'm sure the space would feel less roomy with a roommate.
I have stayed at the Contemporary (2002, my sister got us a military discount so it was affordable), Port Orleans French Quarter (2006, nice, but I felt like I spent a large part of our vacation waiting for, and riding, the bus), and the Dolphin (spring 2022, wonderful pool but otherwise an underwhelming resort for a deluxe). I've got to say: As great as it was to be walking distance from EP and HS at the Dolphin, I think I actually preferred the Pop's Skyliner access. Those walks to and from the Dolphin seemed looooooong at times, especially after a busy park excursion. And the Skyliner is a fun ride in itself.
I didn't have much interaction with the hotel staff. Front desk staff were fine. Baggage check was fine. I had very brief exchanges with a couple housekeeping staff who were very friendly and cheerful.
I only visited the Hippy Dippy Pool once, for a little over an hour. It was okay. A little too frenetic for my taste—games being played over the PA almost continuously (but that's Disney). And I did miss a hot tub.
I bought some milk to have with my breakfast cereal, but that was my only experience with the food court. I could probably have gotten a satisfying meal there if I'd needed to.
I go to WDW mostly for the parks, and don't spend a lot of time relaxing at the resort, so I think Pop is a good fit for me, especially for a solo trip. I already booked it for another (probably solo) trip for Holiday 2023!
I'm so glad you have plans to stay at Pop Century again and get to explore a little more. You are right about the building/room numbers…it is some weird Disney math lol.
Notes on my park bag
Last spring I used a small cross-body bag that barely fit the limited number of things I needed for the parks. I hand-carried a single-use bottle of water into the parks each day and promptly left it each day on a ride (and then proceeded to annoy my daughter by begging for sips out of her bottle for the rest of the day).
This time I used a more capacious bag with a bottle pocket, and a lightweight plastic reusable water bottle that fit perfectly into my new bag's pocket. This worked out much better! (And a good thing too, since this time I didn't have my daughter's water as a backup).
Throughout the day I refilled my bottle with ice and water from the ubiquitous soda stations at quick serve restaurants.
Highly recommend both these items:
Crossbody Bag with Anti Theft RFID Pocket - Women Lightweight Water-Resistant Purse (Red wine)
Lightweight, lots of pockets.
Contigo Autoseal Trekker Kids Water Bottlek, Granny Smith & Nautical, 2 count (Pack of 1)
I found these to be very adequately leak-proof.
I always carry a backpack to the parks, but this time I am attempting to carry this. I'm worried. Especially about water …

Gonna check out the items you recommended. Good info. Thanks.

I would never consider using a backpack in the parks. I keep my phone in my bag; I'd go mad if I had to swing a backpack around every time I needed to look at my phone.
ETA: I have the luxury of no longer needing to carry around stuff for small children. More stuff = more weight = more need to shift the burden to your back.
IKR! I use this lanyard for my phone. And I get asked a lot in the parks where I got it. (Amazon)

I'm addicted to my backpacks, especially now that they display my pins. But Im flying a discount airline with a restrictive baggage policy, so I have to try and go minimalist this time. My husband doubts I can do it.
I cannot keep track of two carried items—remember what happened to my water bottle when I had to tote it separately from my too-small bag.
What time would that be? Are you surprising us at the end of the month?!?
I wish!!! Had to push it out to February to build up more vacation time.
Notes on food and drink
My biggest takeaway from this trip, food-wise, is that I didn't need as many full meals as I'd anticipated. One good-sized meal in the mid-afternoon works well for me, along with breakfast cereal in my hotel room and grazing through the rest of the day. (My type of grazing involves a lot of sugar.)
BEST TABLE SERVICE MEALS
Boathouse: coconut mojito, lobster bisque, garden salad, dinner rolls
Jiko: bread service, scallops, wild boar
WORST TABLE SERVICE MEAL
Nomad Lounge: Hightower Rocks cocktail, bread service, cauliflower
I know, I know: This should go in the Unpopular Opinions thread. The drink was very good, but the food was very meh. The service was friendly but distracted. This is my second disappointing experience at Nomad, and I'll probably just stick to drinks in the future.
BEST DINING AMBIANCE
Spice Road Table (outdoor patio)
Boathouse (outdoor patio)
BEST ALCOHOLIC BEVERAGE
Frozen NY whiskey sour from L'Chaim Holiday Kitchen
BEST SWEET TREATS
Caramel Marshmallow Cream Chocolate Cookie Sandwich from Karamell-Küche
Zebra Domes from The Mara at AKL (takeout)
Mickey Bar
WORST SWEET TREATS
Chocolates from The Ganachery
Overpriced ($3 each for a tiny bite!) and underwhelming (too much filling, too little chocolate)
BEST INDIVIDUAL ITEM
Giraffe bread with herbed butter from Jiko
I dream of this bread.
WORST INDIVIDUAL ITEM
Chocolate shake from Beaches & Cream
Undrinkable pasty yuckiness
There are many times since our dinner that I've just wanted giraffe bread and butter for dinner. It was so delicious!