I mean, it really does feel like that. A little more than month ago, this wasn't even on my radar. And
then the opportunity was presented. I was already scheduled to be on vacation, so no additional or new time off was needed. The airfare, the only thing I have to pay aside from my incidentals, was, for whatever inexplicable reason, insanely affordable. There was no reason not to go. It absolutely felt like kismet, meant to be.
It feels like the Ocean chose ME. I mean, I am Moana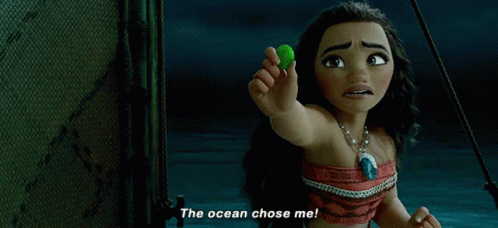 I'm sailing on the Disney Dream on a 4 night cruise out of Miami. There are two ports of call on this voyage: Nassau, Bahamas and Castaway Cay, Disney's private island. There's one day at sea as well. I'll be with a group of TA colleagues and will be trying to see and do as much that this ship and this cruiseline has to offer.
I have a deluxe veranda stateroom on the 10th deck, just beneath the Spa and steps away from
the adults only pool area (cat 5A for those who want that info). I have plans to enjoy BOTH upcharge
dining experiences, Palo and Remy. I anticipate visiting the Rainforest Room and the fitness center. I
expect to visit as many of the lounges as possible (shocked, aren't you?
). I hope to take in all of the feature entertainment. And I hope to have a little bit of down time too, for some solitude and
introspection.
If wifi allows, I will be going live for sunrise on at least one of the mornings so if that's your thing
(because it's totally mine) keep an eye out for me to announce which morning you'll want to tune in.
And I'll be posting not just here – where like @dboothsummers said, you'll get the down and dirty – but also to my business Insta and FB pages where you'll see only the best of the experience. I hope you'll follow along, chime in with banter and questions and snark and all around fun.
Because when you can't be at The Great Big Epic Liner Meet 2022, a decent consolation prize is to have a live-ish trip report right after that where you can be both alone and with all of your forum besties at the same time.
Here's a link to the post in this thread with my insta info: "The Ocean chose ME!" A DCL Trip Report - #26 by OBNurseNH