Still don't have the ride photo from 7DMT. Can guest services find it for me?
Photopass can. They are very good about it.

Link to online report: https://disneyworld.disney.go.com/photopass/contact-us/
The more info you can provide the better: approximate time, what people look like/are wearing.
Ultimately I would have made the same decision as you for the same reasons … but in my mind I would have been thinking, I could have had a plaid for a day with that 6K.
I'm happy to see you back home. Hope you have an amazing trip!
So apparently I did get a BG this morning. Tried at 1 and got an error saying I already had a BG. So checked and saw this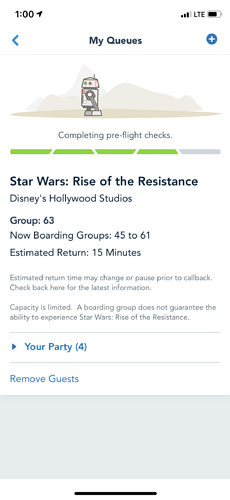 Oh hooray!!! I wonder what caused the confusion! I have heard it was down for a bit, not sure if it's back up. Hope you get to ride soon – 60s has always been right around this time of day on a normal-operations day.
Ironically I discovered this while skylinering up into the sky from HS. Hopefully nothing has changed and I can use this BG this evening
Should be fine. Can't wait for your post-ride report!
This morning I got a system error id never seen before. Kids were acting crazy so I didn't think to screenshot it or try to figure it out.
It was down for a while this morning I think so you should be fine. Congrats!
I'm letting DW ride with the boys since I rode it twice during my Dopey trip. If we have time we'll do RS though. That might happen since DD has been cleared for the 38" mark and we'll all ride MFSR together, which I had also planned to use RS on. Also, had to audible after lunch and head back to the room instead of hitting SDD, so we also need to squeeze that in when we return in about an hour and a half. Along with Ogas, Droid, and Sci Fi. Yes, I'm an ambitious Liner, but you already knew that
Most magical moment so far… We were seated in the second row, dead center, during Frozen sing a long. At the end, Elsa looked right down at DD2 who was wearing her frozen shirt, and gave her the biggest smile and waved at her. DD2 was in shock. I'd say she was… frozen
Sounds like you have a great evening plan!!!
We had absolutely no issue using our BGs after our time window expired. They didn't even mention it and scanned us right in.
It was a moment like that - during Main Street Electrical Parade, between DDnow17 and Cinderella - that cemented our relationship with WDW forever.
When we left the show for lunch at H&V, she was skipping along singing let it go. Wish I could bottle that up and save it for later
You have. Right in your
Thinking back on that moment will probably still bring a tear to your eye in 15 years. Trust me.
This pic is so perfect! I'm so glad you made it and hope you have an amazing trip.
Quick update. Got it all done except Oga's. Was super sad to cancel that. But I was the only one who really cared about it and it meant the boys could ride ROTR.
While they were doing ROTR I somehow managed to get back to the room with DD2, a backpack, the stroller, two droids, and a Mickey balloon.

ETA: I'm tired