Who: DH and Me
When: July 16-20
Where: Pop Century
Background: We were fortunate enough to attend the AP preview for MK on July 10th (see previous trip report) so we somewhat knew what to expect at least when it came to flights, wearing masks in the heat…etc. We both work from home so we can easily self-quarantine and are doing so now that we are back. We don't have any other family who lives with us and no kids to worry about. So, while we were concerned with the numbers coming from Florida, we felt comfortable continuing with our trip and taking as many precautions as possible.
When we came for the AP Preview, we stayed off-site and rented a car (which we never do!) so this trip was going to be on-site and using DME.
Day 1 – Thursday, July 16th
We once again flew Southwest and this time around, I would say mask compliance at our home airport (Columbus) was far better than when we flew in for the preview. One difference may have been that several counties in Ohio had adopted mandatory mask requirements so there may have been a little more awareness. Also, I noted the gate agents made a lot more announcements about masks, including wearing them properly, and while onboard, they reiterated that masks needed to remain on during the flight. De-planing was also better, more reminders to socially distant but in close quarters, it is a challenge. We tried to sit up front to try to avoid the bunching up of people upon arrival. But that meant more people walking by us since we boarded in A19. MCO was pretty empty (arrived around 10 am)

Waiting for the airport shuttle…eerily empty. We headed to baggage claim to get our luggage (I miss not having the luggage service) but it was super fast then headed to DME. Seriously, the picture on the right is on the way to DME.

DME was decked out with plenty of plexiglass, socially distance markers, and hand sanitizer. Luckily, we were the second in line to check-in and were quickly on our way to wait in line for the shuttle.

We were in line by 10:15, boarded the bus that was waiting, and were on our way by 10:35. There were 4 stops (Pop, Riviera, AKL and YC/BC) and there was no free for all to board the bus, you were assigned a spot to sit and the bus was loaded back to front to minimize walking past other riders. Seating was staggered so there was no one directly in front of you, behind you or across from you. The also reminded you that masks needed to be kept on for the entire ride.

I did find it odd that when we arrived at the hotel, we still had to exit at the front so we had to walk by everyone else. I thought it would have made more sense to have us exit from the back. One really cool thing that happened as we exited the bus is the cast members at the hotel greeted us with clapping and welcoming us back. It was a really sweet touch.
Pop was pretty dead yet, our room wasn't ready yet. I was really hoping it would have been but we checked our bags at bell services and headed to the Skyliner and EPCOT. I don't think I have ever seen the lobby so empty!

We did notice that the entrance to Everything Pop (gift shop and food court) had a CM standing guard and a sign to mobile order. If you wanted to just look around the shop you could but they did appear to be keeping track of how many were in the store. If you wanted to get food, you had to mobile order first, and then once your food was ready, you showed the confirmation to the CM and they directed you to the food pick up area. They also had one-way flow throughout so you were never passing people going the opposite direction.

We took the Skyliner and arrived at IG around 11:30. Good social distancing markers at all of the Skyliner stations. And not a lot of people around at all. We got a Skyliner to ourselves, one advantage of being a party of 2! As we were getting into the gondola, the CM said to keep our masks on during the ride. We did but I have to think that an awful lot of people don't!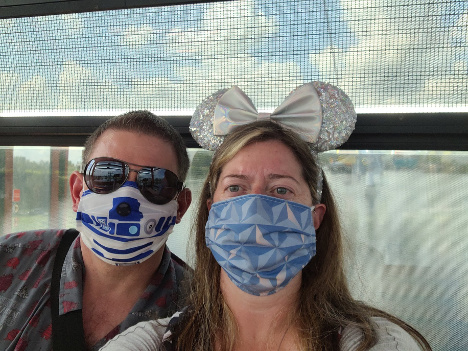 Temperature check was a breeze as was bag check. We didn't have to empty pockets or bags or put anything in the bins, kept our park bags on, and walked through. I was live-streaming so I had my phone in the gimble and didn't even have to set that down (I wasn't recording while going through security), I just held it out and went through. Such an improvement from pre-COVID!

Our plan was to head to Canada to get some food but, of course, got totally sidetracked and ended up going in a few stores (I checked out the Flower & Garden Merch).


We passed the World ShowPlace and decided to head in to check it out. We didn't need it today but there were signs for a virtual queue and of course you could scan a QR code to see the menus.

Huge space with only 4 "booths" but lots of spaced out seating (some tables with chairs but also high tops as well).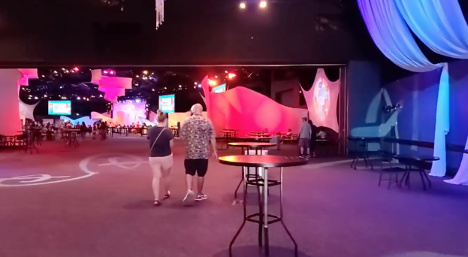 The ordering area had the CMs behind plexiglass. The other thing that surprised me is that if you used a magic band to pay, you still had to use the keypad to enter the PIN. Yet, if you used a debit card, you didn't have to do a pin or sign anything.
We opted to try the Mac & Cheese. I got the Lobster Mac & Cheese while DH got the Gourmet Mac & Cheese. I will say that we got our money's worth! These were huge portions and the amount of lobster in mine was tremendous – lots of really large chunks. For $6.50, it was a steal! I wasn't wowed by it overall but you can't beat the value.

Now that we had some sustenance, we headed to Future World.


At least the construction walls are colorful!

First, we headed to Journey Into Imagination. What appeared to be a walk on actually ended up being about a 10 min wait. I think they started cleaning vehicles during this time (although it wasn't visible) but there really was no reason for the wait time to jump. I really wish they would give this ride some love. I remember the ride in its original form and what we have today is just kind of a sad shell of the greatness that it was. Obviously, all of the interactive areas at the ride exit were closed. This just led to an overall kind of depressed feeling. I noticed this on many of the rides. Even though we rarely partake in the interactive elements, to not have the noise, the people…it really did lose something.
Next, we headed to The Land and hit Soarin, Awesome Planet, and Living with the Land.

Awesome Planet was starting in 3 minutes when we walked by so we did that first. Socially distant dots told you where to stand as you waited.


In the theater, rows were blocked off and in the open rows, seats were blocked off. If you are a larger family (more than 4, you have to set in two separate groups.


This was our "full" theater!

Soarin had dropped to a posted wait of 30 minutes so we decided to head there. In reality, we waited for about 20 min. We got B1 without even asking (they were using all three theaters)


There were only two groups per row, again, up to 4 people per group. Plexiglass in the queue


The scents were on in Soarin – I love this ride. I have been listening to a lot of Disney BGM loops while I have been working from home and the score to Soarin is one of my favorites.
They do have plexiglass dividers in the rows – they have attached plexiglass to a booster seat and buckled the seat onto the ride seat belt. Pretty clever.
Living with the Land was a walk on. They spaced out parties in the boats so there was one in the front row and one in the back row.

Very cute Welcome Back sign

We noticed some new Mickey-shaped plantings!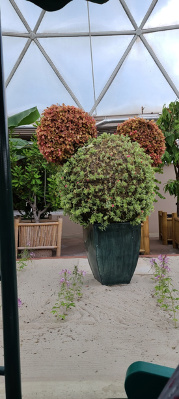 DH was hungry after this, so we ate at Sunshine Seasons. Normally, this is a win for the variety – I can get Chinese food, DH can get Pizza and they always have great desserts. Well, in the COVID era, this was very different. You again had to mobile order and honestly, I found the traffic pattern and routing here very confusing. We mobile ordered and the menu was way way scaled back. With the lower capacity, I understand this but one consistent thing we noted in all parks was the lack of desserts and cupcakes. Say what you will about the cupcake fad, I actually look forward to all of them at Disney.
We opted to skip the Seas. This is normally a favorite, especially the tanks but with it being inside and lots of the exhibits requiring you to get close up, we opted to skip it and head to Spaceship Earth.

They still had the interactive part in the ride vehicle where you pick your future (kind of surprising) but you don't get the option to send your postcard so we just took a video of it as it played in the vehicle. With masks on, it was downright funny to see our faces – basically just eyes.
We headed to MouseGear to check out the offerings and came across one of the few remaining topiaries from Flower and Garden.


Disney Marketing, you have my number


I LOVE Food & Wine/Flower & Garden but honestly, not really feeling it this time. Maybe it is because it is July and 106 heat index, maybe it was the lack of new merch, maybe the lack of food booths…but, I'm just not loving it. Better for the waistline at least!

We headed to world showcase and finally got to Canada and had our favorite filet. We normally do the cheddar cheese soup too but in the heat, it just didn't sound appealing.

The Disney Ducks were out in full force! This guy even went and sat on a social distancing dot, which I thought was hysterical

Also, at a normal EPCOT festival, I eat A LOT. But I had little appetite and even around world showcase, with a lot of the shops closed, there just wasn't the same vibe. It was close to 4:30 now and as much as I wanted to catch some of the character cavalcades, we were just spent and decided to head back to the hotel.
We had gotten our Room Ready text and were in the 70's building. We have never stayed in that section and given that was the decade we were born, I was looking forward to exploring it. I know some don't like the in your face, large figures around but I love them.


Love the views of Hour Glass Lake and the Skyliner Station.

When we entered the room, my heart was happy. We saw the remote individually wrapped, same with the bathroom shower dispensers and the enhanced cleaning postcard. This is one thing that was missing from our offsite stay last week (we stayed at a Marriott).


Also seeing the classic Disney channel with the music….so so happy.

We headed down to the food court to grab dinner. Again, I know the values get a bad wrap for food but honestly, I really love the pot roast at Pop Century.

We mobile ordered and waited for it to be ready. Once we got our confirmation, it also tells you which mobile order station to go to – all of the normal ordering stations are roped off and orders are put in bags on a table. Then you go to a separate area to get drinks. We walked off without getting our drinks since this was the first time we were using this new system. Luckily, I remembered before we got the room and headed back to find the area for drink pick up. The good was put in boxes and I didn't think it impacted the overall taste at all. DH usually gets the artisan pizza but those weren't available, so he stuck with the regular pizza. And, again, not a great dessert selection, no tie-dye cheesecake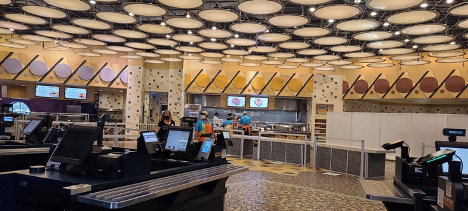 It was still pretty early, maybe 6:30 but we had been up since early and the heat really wiped us out, so we unpacked and just relaxed.
Closing thoughts of the day:
• Normally, I love EPCOT and the festivals. To me, there was a noticeable lack of energy in the park and that made me sad
• It was hot. Really hot.
• I found that while wearing masks all day didn't really bother me, I did drink a lot less water.
• Compared to MK on the preview day, there was not nearly as much visible cleaning that we saw. That doesn't mean they weren't doing it, just that we didn't see it. No cleaning of ride vehicles, no wiping down things.
• We generally stay at Pop and find It a great choice for us. There are only two of us so the smaller room size isn't a big deal. We like the basic but good food options and the Skyliner is a game-changer. BUT….now with the parks closing early, I think it may be worth exploring other options. Being at a resort that has some other options for food, like an actual table service restaurant or even just having other spaces to relax is very appealing. Being Rope Drop to Park Close people has a whole new meaning with the shorter park hours!
Next is Hollywood Studios and our attempt at a Boarding Group and riding MMRR for the first time. Tune in tomorrow to see how the day played out