I LOVE the idea of hanging out in an emptier SWGE and getting to see FW from there.
Thanks! It was a great time!
@lolabear_la's response is more thorough and if there are any conflicts, go with her advice.
Basically during the parade, wherever you are when it starts, you will have to stick there till it's over, and probably after fireworks as well. Adventureland, Tomorrowland, Frontierland, and Fantasyland all have pockets where you could conceivably hang out. But you might run out of things to do.
I would recommend TL during the parade. You won't be able to leave but you can ride stuff or eat and avoid the crowds.
And if you do want to leave the park, you can get out on the Monorail.
In front of the Millennium Falcon will crowd a bit as that's RIGHT up near the bursts and if you just love FWs and their loud boom it's a fantastic place to view them. But you can see the bursts just about anywhere with an open view of the sky in Galaxy's edge so it's a great place to hide out during the busy shows. DH watched with DD2 between the entrance & exit of Rise (while the rest of us were on Rise) & we were able to see the finale just as we exited and it was a pretty awesome view.
My APR day is coming up this weekend and OBB will go on sale June 30 for the public. So I need to made park reservations before I know if/when we get OBB. Originally, had planned to go to OBB on Sunday but of course that means that this year they aren't having it on Sunday
I have the choice of Sat 10/29 or Mon 10/31. We have 5 day park hoppers so Sun originally would have been a sort of half rest day. Needless to say I've had to do some rethinking and I'd appreciate any feedback on what I've come up with. I'm mostly concerned with the park reservations though my guess is since we will have 5 days + OBB we won't have to worry much.
Fri 10/28 arrive LAX mid afternoon relax and/or DTD
Sat 10/29 DTD (make our own Lego mini fig?) maybe Trader Sam's for lunch until 3 pm then OBB 3-11pm
Sun 10/30 DCA APR/DL
Mon 10/31 DL APR/DCA (closes at 6pm for last OBB)
Tues 11/1 DL APR
Wed 11/2 rest day
Thurs 11/3 DCA APR
Fri 11/4 DL APR (I'm really undecided on this one but gives us another day we might be able to get lunch at Blue Bayou)
Sat 11/5 leave for LAX late morning
We are staying at GCH and will have DAS. Planning to have one day G+ for the photopass, OBB includes photopass too. The only ADRs we really want are Trader Sam's anytime any day, Blue Bayou for lunch (Monte Cristo!), Cafe Orleans anytime any day (Monte Cristo!) and Lamplight Lounge anytime any day. Thanks for any insight.
This! No need to worry at all. DLR is not WDW, it is laid back and easy in comparison. 5 days plus a party day is a lot, you will have plenty of time to see it all. Your plan sounds fine, we always just alternate which park we start in. Hopping is easy. Although I would likely do OBB on Halloween night if I were in your shoes. They will all sell out, so there won't be more crowds that night (and actually more people with little kids will go on Saturday, so I would choose Monday for the possibility of more adults/less kids since it is a school night). I would buy your OBB tickets on the day they are released. Those 2 dates will likely sell out first.
Thanks. I went back and forth on OBB Sat or Mon many times. Your analysis actually makes Sat seem better for us (I think) because if there are a lot of kids they will be doing the trick or treating which we aren't really too interested in. That means maybe less kids in lines for rides
. The other OBB things we can pop in on as we come to them, I think/hope. I will probably now take one last look at doing 10/31 OBB and see how that shapes up just because you do make an excellent point about a school night which I hadn't considered before. Thanks! @Wahoohokie I always really value and appreciate your feedback!
You are welcome! Don't miss out on the trick or treating, they put the villains in the lines, and that is the only way to see those characters (Oogie Boogie, Evil Queen, Mad Hatter, Malificent for example). You do need a plan for the party to see most of the things, I have been many times, and it is a busy event. I rarely ride any rides during the party though, those are easily accomplished on the non-party days. I am all about the characters and picture opportunities I guess. Cruella was amazing last year, hope she returns this year.
With a few exceptions we're fine with seeing characters from a distance. That's one thing we wouldn't have minded staying from the pandemic but I know that that's not a majority opinion. I am actually interested in the parade which is odd for me so we'll see where that goes. The decorations and overlays are our biggest interest, DH loves Halloween it's his favorite holiday. Also, because I listen to you DL experts I don't really have a plan, I have lists. DL Tier 1 and Tier 2 and DCA Tier 1 and Tier 2. We likely not go from RD to close because we have limited energy but being at DL and in October we may be able to do more than we did in WDW in June last year. I mean if we end up HAVING to go on Incredicoaster (or other E ticket ride) multiple times, I guess we can muster up the oomph to do so!
The characters in the treat trails cannot really be seen from a distance, they require waiting in the treat trail lines. There will be others not in the trails though that can be seen from a distance. The parade is fabulous!
Disney Food Blog released a new video on Disneyland (which they rarely do!) - you should check it out. A large portion of it was gushing about how much more laid back Disneyland is because it's a park for locals, not a destination park. I have found that to be true as well. Don't stress as much. The days are usually low key and it's just the evenings that are a mad house, so plan accordingly.
Here's the video: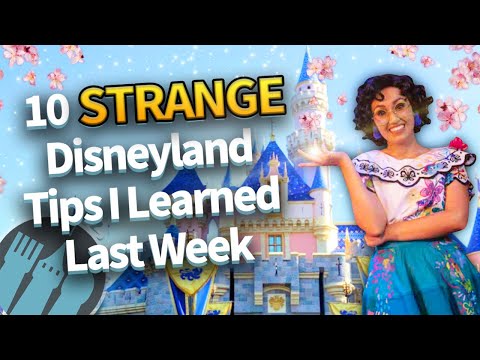 Thanks! I'll take a look!
I wanted to add one suprise ride that I found incredibly jerky at DLR - Roger Rabbit.
Maybe itnis because I rode this and the Batterhprn fairly close to back to back. But it killed my back eith sudden jerky turns.
Have others had this experience?
My back doesn't get easily bothered by rides, but Roger Rabbit is definitely more jerky than any of the Fantasyland rides, so that is good to keep in mind for newbies. You can choose whether to spin or not but much of the motion is compulsory.
You can also counter-spin on Roger Rabbit but it requires being able to firmly hold the spinner in the opposite direction when it really wants to spin. Someone I know who is prone to motion sickness will ride it like that when she does venture on.
I do that sometimes, too. Also on Mad Tea Party.
Depending on which kid I am riding with (and if that set kid elects to try it again) I do it too.
I had no idea. I am not sure I even knew it spun and I probably wasn't holding on. Which probably made it as bad as riding on thw speedway with a kid who lets go of the wheel.
Haha it's quite similar. The speedway is probably the jerkier of the two, but very similar motions.