The celsius meme is great.
We have him!! He's called Tiny
Adorable. That's a great photo.
Actually I don't think ours is THAT big. I brought him home in the passenger seat of the car, not the boot.
I'm sorry @Shmebulock but I have a relevant heartwarming story to share.
I have a huge collection of stuffed animals from when I was a kid (the first being a sailor doll that my grandma brought me from Fiji when I was a baby - seen in the left edge of the pic below).
The below is a true story that I shared on my Facebook page a few years ago involving one of my most prized stuffed animals with a Disney Parks connection.
Emily and I were pen pals and later Facebook friends but had only seen each other twice in the intervening 25 years. Here was her response to my post: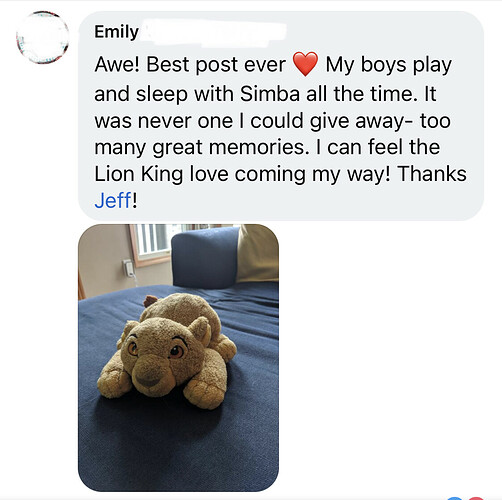 Emily is still alive and healthy and has been cancer free for a couple of years, though she still gets regular checkups due to the high risk of recurrence with this type of tumor. Nala is still on my bookshelf by my bed.
That's ok. That one has a happy ending

Lovely story @Jeff_AZ
My son collected panda bears, daughter anything stuffed. We have garbage bags, multiple, plus stuffed animal hammocks (3) between 2 guest rooms. I struggling to part with any of them. The kids took one each when they moved out (Precious and Pandiboo). These were the first stuffed animals the kids got on the first family trip we took at 3 and 5.
Oy you got me with that one
Me too. The rest didn't bother me at all!
I am not a hoarder, but I have a seriously hard time getting rid of stuffed animals. And I still have the hand-made Winnie the Pooh bear that my mom gave me for my 5th birthday. Which makes him more than 50 years old!!!
He got me too.
[/quote]
This one is hitting a little too close to home after my hoverboard accident the day after Christmas!
I think a hoverboard accident is a bit different to picking up a milk bottle
True. But I have been thinking often that I would have not been this injured if I was young.
I sneezed myself into a weeks long neck spasm last year.
Good times.
My husband sneezed himself into a wheelchair followed by back surgery.
He wins.