your favorite character meet. Tell me about the interaction and what made it memorable
Thanks.
My last trip I did Bon Voyage and that was fun. I also did the talking Mickey.
Favourite ever, or a current one?
Chip and Dale are fun
Plus lady tremaine and her daughters
Updated the post - tell me the story of what made it great.
So hard to choose. But the Stepsisters NEVER disappoint. They are always funny. Here is a pic showing when my DS Patrick taught them to use a lightsaber.
And on the carousel.
My all time favorite is a meet with Mickey in the Town Square Theater when DD was 2.5. She had met him before and always gave him a big hug, but this time she was super excited about meeting her friend. As soon as it was our turn she ran as fast as the could towards him, grinning from ear to ear. Mickey was crouched down and I seriously thought she was going to knock him over! She cuddled him for ages, looking soooo happy!
Those pictures alone would have been worth the cost of Memory Maker if they hadn't been included in our APs. I was behind her and could never have got those shots myself.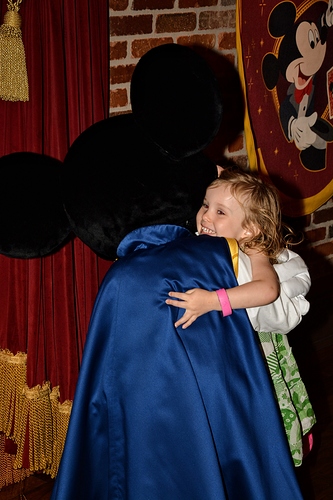 I miss talking Mickey. Junior was too shy too approach any character until Mickey, then the floodgates opened and he wanted to meet them all
My trip was magical because it was my first Solo trip to WDW in Nov and went to MVMCP. I did several character meals and Bon Voyage was my first one and Tangled is one of my favorite movies, so super excited to see her and Flynn. I think it was Angela from TP did a review of it on You Tube and Eric was "sick" and Merida filled in for that day. She was the only character I wasn't able to meet on that trip. She was unavailable at MK.
I, too, was lucky enough to meet talking Mickey. He knew my name! I was not expecting it & didn't know there was a talkative Mickey. I almost cried.
Our favorite meet ever! The stepsisters joined us in line for the carousel & were such a hoot! Then they rode the carousel with us, being completely ridiculous the entire time. Peter Pan stopped by to tease them. After our carousel ride, all 3 led us over to their meet & greet area where we were first in line. It was a truly unplanned, magical moment!
I always appreciate your advice and you are a voice of reason in a sea of noise! Hang in there. When is your next trip and are you going to do any character meets?
Can I cheat a little and tell you the one I'm most looking forward to? Next month we're taking our 3rd trip to WDW with 9 and 6 yo boys. They're not crazy into meeting characters, but… The younger one LOVES Pooh—he calls him "Windy the Pooh"—but somehow on our last 2 trips didn't get to meet him, only wave at him. So I have promised him that no matter how long the line, he will meet Windy the Pooh. He is beside himself, already planning to wear his 2 sizes too small Pooh shirt that he got on our first trip, and bring his little Pooh stuffie with him. I haven't told him that we have Crystal Palace breakfast planned on our first day, but did tell him that it exists and he said "if we ate there, I would hug ALL of them SO much."
I love his thread. I'm right there with you in feeling down about the world in general, especially the last few days. It's a lot to take.
Awww! Are those the cutest Moana dresses??
I have heard such great things about this breakfast that we are planning it for our April trip!!
He knew your name?!?!
What the…!!!