Exactly! Was how I ended up all over the place.
I see the lines for the Skyway!!!
This was also the way the Matterhorn worked only three to a toboggan. I remember going in high school (early 80's) and it was an interesting experience being that close to perfect strangers.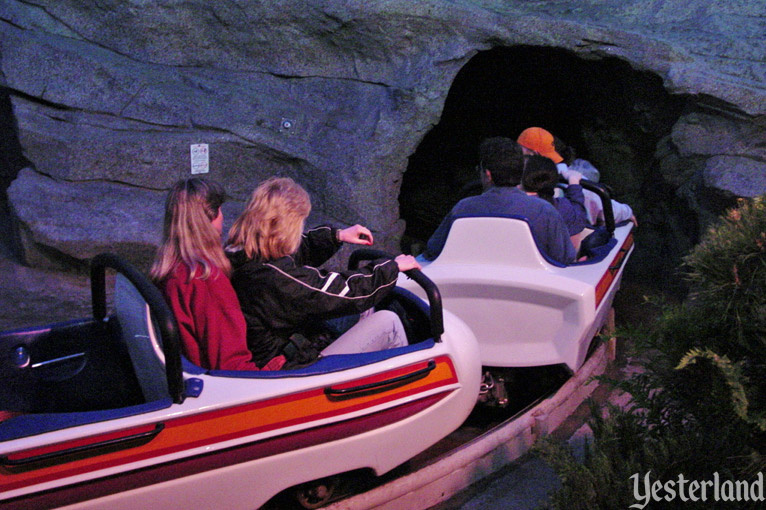 Maybe I was wrong. I can only find pics of these 2x2 cars. Still it was a very close ride! (And the hair looks awfully familiar …)
How fun!! I don't remember too many details…
When: July (June?) 1993
Who: My parents, me (8) my two sisters (both 6). My grandparents tagged along with us for our MK day but didn't stay on property with us.
Where we stayed: The Poly
Parks: MK, EP, and HS (whatever it was called back then - MGM?? I don't remember)
We had a family reunion that year in Louisiana and I guess decided we'd drive there and then tack on Disney afterwards.
I remember…
My 80 y/o Mamaw riding Splash and Thunder with us to convince us they weren't scary.
Waiting in line FOREVER to ride Splash. I remember it was so hot!
Using all of my souvenir money to buy my mom a cookie jar.
Vaguely remember boarding a submarine.
My sister falling asleep everynight at 6:30 because she needed glasses (my parents didn't realize the strain she was putting on her eyes to see and it exhausted her).
Eating dinner at Tony's and rushing outside to catch the nighttime parade - while my parents carried my sleeping sister.
I'm pretty certain my dad forced us on Space. I had vague memories of the lights and trying to get out of riding it.
Spinning with my dad on the teacups.
Riding the monorail through the Contemporary.
Having dinner at the Poly and the Jungle Book themed kids' menu.
Waking up really early one morning for a character breakfast in a resort somewhere.
A flash memory of what the Germany pavilion looked like.
Eating an oddly timed lunch at Coral Reef - it was very empty.
Sitting on my dad's shoulders to watch Illuminations at the end of the night.
Playing in the Honey I Shrunk the Kids playground
This was our one and only trip until I took my family (along with my parents) in January 2018. We have been back 4 times since then!!
Sometimes I feel so old!
When: April 2005
Cast members: Me (44), My Mom (69), My Son (13), My Niece (15)
Parks Visited: MK, AK, MGM, EP, plus Disney Springs
Admission Media: I think 4 day park hoppers bought at my local Disney Store
Where we stayed: Port Orleans Riverside-Parterre Place (before Royal Rooms)
Parade/Fireworks: parades at MGM, AK, and MK (Spectomagic) Fantasmic and Wishes
I grew up very, very poor. We never vacationed, we did not own a car. My mom was the only single parent in our neighborhood. I am the oldest child and she wanted to take me to Disney. We went when I was 44 and I paid, but we went.
Some traditions started that trip: I only stayed at POR for years, we ate at one table service: Crystal Palace, we went to Downtown Disney.
It was the only trip I ever went on Ellen's and Stitch. It was The trip we did attractions we didn't do again for years: Kali and TT (after hours long waits), and Astro Orbitor.
I remember calling my husband as we were loading the plane on the way home and I told him I didn't care if I ever went anywhere else as long as I could go back.
This is the best thread!!
We were there around the same time. This wasn't my first trip, but I remember being there for the soft open. I actually only rode Splash Mountain for the first time this past November.
Because we didn't think we'd ever go again, we were gutted that we were so near yet so far from it opening. I still remember how we dashed over there when we saw empty logs coming down the drop, to find out what was going on. I can't believe you waited so long to ride it!!
When: Christmas of 83 (I think)
Who: Mom, Step-Dad, Older Sister, Me (8)
Parks: MK,EP
Where we stayed: The Poly
I remember that we drove down and when we got to the Kennedy Space center we jumped out of our little honda hatchback and went to go change out of our winter gear. This was the first and only warm day of our trip.
For MK, I remember freaking out in the stretching room of HM. At the same time, I remember loving SM and BTMRR. Go figure. I'm pretty sure that I rode 20,000 Leagues and Mr. Toad's Wild Ride a lot. The other stand out was the Jungle Cruise.
For EP… this was amazing for me. The communicore was amazing for me as an 8 year old. I think that everything that was demoed there is all working on my phone now, but at the time it was really forward thinking stuff (to me). I loved the Imagination pavilion and the play area that you visited afterwards. The color changing floor tiles were probably one of the coolest things I had ever encountered at the time. Oddly, the most memorable thing to me was the mad rush to get a meal reservation at park open.
This is a really neat idea. Interesting to see what everyone remembers. You all remember way more than I do. I have no memories of going when I was 4-5. I have a few memories of our trip in the late 90s when I was 11-12.
MK - 20,000 Leagues, Splash Mountain, Space Mountain, a parade, and Country Bears. I also vaguely remember going to little cottages/houses. I think it was Minnie.
EP - no specific memories, except for the jumping water fountains.
HS/MGM - Indiana Jones, Backlot, Honey I Shrunk the Kids, and Tower of Terror.
AK - wasn't open yet / we didn't go.
BB - I recall going, but none of the attractions.
Resort - It was December. I recall swimming in the pool when the lifeguards wearing winter coats, hats, mittens etc. and people kept stopping to ask my mother where we were from. I still remember the look she would get from people after she answered. Almost like they felt stupid for even asking.
I also recall being a brat for most of the trip and refusing to go to TL. I think I even hopped on a bus by myself and went back to the resort to wait for them.
Since you remember going on 20,000 leagues, this means you would have gone in the early 1990s, since the ride closed in 1994.
My parents and my wife don't like getting wet on rides, so it was avoided. DW only went on it because of the kids and they were all amused that I got soaking wet but they only got splashed a little. We were in the front, so they (and by this, I mean DW) were worried that we would all be soaked.
It was closed for refurbishment when I went on my solo trip in late January, otherwise I would have gone again.
My first trip was March 1978. I would have been about 3 1/2. I vaguely recall watching CBJ but no other memories. My mom would have been very pregnant with my brother who was born that June. As I mentioned in another thread, what astounds and (now) terrifies me about that trip was that my dad, age 27, flew us all down there from Illinois in his little Piper. We were not at all well-off but my dad worked for a small-town airport group and managed to pick the plane up somehow. I only have one photo from the trip:

When: 1982-ish
Cast members: Dad (35) Mom (35) Bro (13) Bro (12) Me (7)
Parks Visited: Disneyland, Knotts Berry Farm
Admission Media: Paper tickets
Where we stayed: No idea. Not a DL property for sure
Parade/Fireworks: Yes, lol.
Grew up in a very much blue collar family. We didn't have a lot of money, but my folks must have been great money managers because they always seemed to scrape up enough funds to take us to DL, and later WDW every 7 years or so. Don't know where the number came from, but it seemed they likely thought 7 was a good age to go. I almost am thinking I may have been 6 and it was 1981 because my sister was born in 1982, but MAYBE we went after she was born. I'll have to talk to my folks and edit later. I'll try to find a pic as well.
I don't recall a ton, but we do have quite a few pictures. Pretty sure that was where I started being a "car guy" as I loved the Autopia ride. I do recall Knotts Berry Farm as being more like a carnival.
My fondest memory is actually of the car ride. The five of us were piled in a '78 Chrysler LeBaron (remember, I am a car guy and recall this kind of stuff, lol). My older brothers relegated me to the foot wells of the back seat so they could stretch out. The car had an 8 track and we listened to Star Wars non-stop the entire way down from Oregon. We stopped the first night in Grants Pass, Oregon at a little hotel called the Wolf Creek Inn. Us boys had a room at the end of the hall and my parents were a few doors down. The place was SUPER creepy. I think I had watched too much Scooby Doo, but the walls literally had portraits of people and I was waiting for their eyes to move. I wasn't the only one creeped out, either. We had just got into bed and settled down when there was a big clang in the bathroom. We all rushed out and ran for mom and dad. They calmed us down and took us back to our room and discovered that my brother's toothbrush fell off the sink and was on the ground. About that same time is when we noticed there was a baby crying in the room across the hall for us. That baby cried ALL NIGHT LONG. When we checked out the next morning, my dad mentioned it to the staff. They looked the room up and told us there was nobody in that room!!
Maybe that's why I don't recall much of the rest of the trip, lol.
I remember going when I was in 3rd grade, but I think I went prior to that. One of the things I do remember was my dad wouldn't stop at any rest stop. At all. We just kind of had to keep going until he had to stop. One time, we had to stop on the side of the road because I started crying. I got out on the passenger side with the door open and started peeing =. After a little while, my mom said "Wow, you really did have to go!" Remembering that makes me want to stop for my kids whenever they want as many times as they need.
I'm pretty sure that visit was in 1983. It was my parents, my sister who is 3.5 years older than I am, and me. We only visited Magic Kingdom because Epcot wasn't around my first trip, but I remember thinking this is the funnest place ever. Maybe that's why I enjoy it so much… because I am truly a kid whenever I go back now. We ended up going back after Epcot opened and I just remember thinking how boring it was… "Where's the rides!!!"
I loved the 20,000 leagues under the sea ride, but was scared to death of the witch in Snow White.
It's amazing how long DL kept the Matterhorn tobogan's this way! Our first visit with our kids (ages 11 & 9) in 2007 the seating was still configured this way. I remember hoping I could hang on to my son since he seemed so little and there was only the front bar to hold on to. I do think we had a seat belt too though.
When: 1972?
Cast members: Me and friends of my parents
Parks visited: Magic Kingdom (duh)
Admission media: No idea
Where we stayed: No idea
Park hours: No idea
Parade, fireworks, etc.: No idea
Very few memories of this. Childless friends of my parents were going to WDW, and thought that it would be more enjoyable with a child - this trip confirmed the fact that they should remain childless, and they divorced soon after if I recall correctly.
All I really remember about the trip was losing a Mickey balloon in the park, enjoying Mr. Toad's Wild Ride, and being utterly terrified by HM. I think I got a bad sunburn as well.
Not sure whether to
or
.
(But it is pretty funny!)