And what is the price range?
Are they tight?
Kids' sizes harder to find?
I'm eyeing some on Etsy for about $30.
I have so many. I find them on Instagram and Etsy, and it is a serious illness.
Oh, I'm actually looking for some Halloween ones for my trip this October! I'm checking out that Esty page. I have bought them at the park and on line as well. They can be expensive - $25-$30 each.
Some are tighter than others, you have to get used to them.
That's what I'm afraid of. I have a larger than average head. Headbands can start to really hurt.
What do you do with them on rides? Hold them? Are them impractical beyond a few photos?
Magic Shoppe Designs on etsy has hat ears! They're much more comfortable, and interchangeable! A band goes inside the hat, and the ears attach with magnets! I have two pairs of those. She does a large amount of customization as well, with different colors, and glitter.
I made my own! It was waaaay easier than I thought it would be, and it allowed me to use a headband that I could try on and assess fit before committing. I watched a couple of youtube tutorials and went for it. It was a fun way to spend a few hours getting ready for our trip.
I have a big Sorcerer's Hat Mickey Ears. I do have to hold it / stow it on most rides. Also, it is quite tall so I don't want to block anyone else's view. My DD collects Ears and she wears them about 85% of the time at the park.
Are they impractical - I guess. It's not like I bought it because I plan on wearing it while mowing my lawn. I will say my hat does have a wide brim that keeps my forehead & neck shaded, but that's just a nice coincidence. I do actually like to wear mine around the house sometimes - especially if I'm online. It brings a little Disney Magic into my day.
I do buy items from etsy, but I get my Ears at MK - The Chapeau on Main Street. They have most the "official" fancy ears you see ppl wearing.
Ears at The Chapeau typically cost close to $30. My hat fits fine, but I do wish it was just a tiny bit larger. My DD has never had issues with the size of her Ears. They make multiple sizes for purchase.
I also am large headed and I find the official parks ears fit me comfortably, which was a huge surprise. I have no experience with custom made ears, but my guess would be they may be too tight since they are made with bands that are readily available, and most of those are way too tight for me.
DH made his own and put them on a hat he bought previously at AK. He wore them on our last trip almost all the time. He didn't have time to make me a pair. When they came out with the sparkly purple ones during our last trip, he bought me those. I love them, but they feel like they will slip off and do t feel like they fit too well with my glasses. It's my first pair of ears.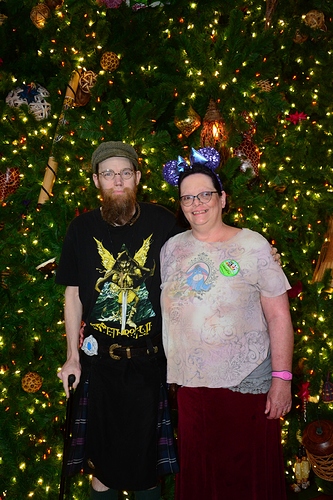 I've bought from 4 different Etsy shops and my favorite is WisheryEarMakers. They're the most comfortable (and I have a big head) and she runs discounts frequently, usually around the holidays (15% off now). If you do order from Etsy, make sure you have enough time before your trip. I've found that they all take longer to ship than they say!
I also make my own. So much fun. And there are so many different kinds of ears you can make - fabric or sequin ears, wire ears with flowers, etc. Lots of tutorials available online.
I have an average size head and my DD19 has a smaller than average, but neither of us can wear the ears purchased in the parks for more than a few minutes before they start to hurt. I wish we could adjust them.
I bought a beautiful pair of Maleficent ears from PlayItByEars on Etsy, They were $38 at the time (2017) but they were wonderfully made, very comfortable (generally headbands give me a headache within 30 minutes) I wore them for hours.
I'm impressed so many of you make them. I have doubts in my abilities to make some that wouldn't fall apart before I got off the tram…
Those magnetic ones are intriguing.