I have never done a trip report. I won't chronicle everything we did on our trip, but I would like to share some of the highlights and some information that might be useful to some of you. Our trip took place from August 16 through August 20, 2018. We stayed at Portofino Bay, Club Level.
Portofino Bay is amazing! Others had said it, I had seen the harbor from the walking path, but I needed to see it myself. I have stayed at Cabana Bay, Royal Pacific and Hard Rock before. I have loved them all, but Portofino was the most beautiful, spacious resort. We have a family of five and when we stayed at Royal Pacific, it was like shoving sardines in a can in a standard room. Thankfully, we only slept in it. At Portofino, we had plenty of room to spread out and lounge around. But I have one complaint with these resorts. Why, oh why, do they all have transparent glass door showers contained within the room with the toilet? In our family, we are not the "look at me pee; look at me shower" type, so no one could use the sink or toilet while someone else was showering. A translucent glass or a curtain would have made much more sense.
They were super-efficient at PB. I pulled into the valet parking area at 2pm with my rental car. I got all my luggage loaded onto a cart and taken by a bellhop, checked in, returned my rental car, upgraded my tickets, picked up my APs and got snacks all by 2:30. I could not believe it was that quick and easy!
I was prepared to have to take the boat to and from the parks every day because I had heard the walk from the resort was long. However, I found it to be much easier than anticipated and actually walked several times. I timed it one night. After a full day at the parks, I got from the entrance of USF to the harbor at PB in 15 minutes.
There has been a lot of talk about the value of Club Level. Given the size of our family, I decided to try it out. My plan was to have breakfast there every morning and take a break each day to enjoy the evening hors devours that people had said could create a meal, while also grabbing snacks and water to enjoy at the parks. Breakfast was fantastic! Eggs, potatoes, bacon, bagels, breads, pastries, fruit, cereal, hot oatmeal, yogurt, milk, juice, coffee, tea, water. It ate a filling breakfast every morning and then took a bagel and cream cheese and water bottle with me for mid-day snacking. I was back at the resort two of my five days in time to grab midday snacks (Goldfish, chips, crackers, packaged cookies, soda, water) to throw in my bag for later in the day. Evening hors devours, however, were another story. The parks were open 9-9 when I was there and the hors devours were from 5-7. Most nights, this schedule just didn't work for us. To go back at 5ish and take over an hour to eat and get back in the parks seemed like a waste of time. The one night we were there, the food was beef enchiladas, rice and beans and corn. I like all these things, but the rest of the family didn't and they just loaded up on cheese and crackers and we got pizza later. Twice we partook in the evening desserts, where they had cookies, small pastries and custard. All in all, we paid an extra $20 per night per person to stay Club Level. Was it worth it in a cost analysis for what we ate? Probably not, but maybe. Depends on what I would pay for a hot breakfast every morning and various snacks.
I won't bore you with how much I absolutely love Harry Potter (a lot!), but I will tell you few things you might find helpful and/or interesting. I love them both, but given the choice between early entry and late night HP areas, I find it is so much more amazing being one of the last people to leave at night!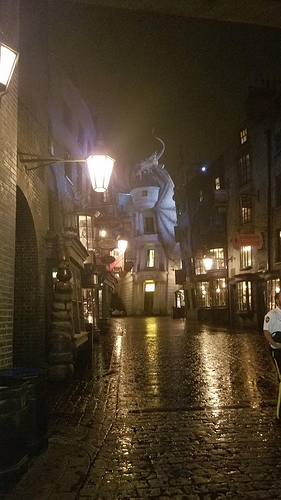 The park closed at 9, but we got off Gringotts after 9 and they let us wander around Diagon Alley for a while without throwing us out. Same thing happened to me after park close in Hogsmeade. It's beautiful!
There is always the question of how to get a child chosen for the wand show at Ollivander's. I know there is no set formula, but I can say that we entered the waiting area while another family was already in there. I walked in with three kids and the second DS10 rounded the corner, wearing his Gryffindor shirt and birthday pin, one of the assistants grabbed the other assistant, whispered to him and the second assistant went into the wand room. Maybe this was coincidence, maybe it was a "this is the kid" moment. Who knows? In any event, he got picked for the show!

DS13 was a bit upset because he wanted to be picked, but when the show was over, we stayed behind and I asked the wand maker if he had any suggestions for my DS13 for getting a wand. The wand maker asked him some questions and then gave him a recommendation. It only took about a minute, but it made DS13 happy and I really appreciated the wand maker doing this.
We took the Immigration Tour at Men in Black for the first time. I thought you just went in and got a picture of the aliens. Turns out, we were able to wander around the main floor, sit at desks, go through papers, fill out forms and THEN take the pictures. Then we were told several tips for how to get higher scores on the ride and were walked right back to the front and rode the ride again. Sadly, I am terrible at shooting games and, even with the hints, my score was abysmal.
Eating at off times worked splendidly. One day, we had lunch at 10:30. Twice we had a late lunch at 4. Each time, there was no wait and we were in and out quickly. A late dinner at Toothsome, however, was another story. During my last trip, I ate at Toothsome and it was very efficient. This time, it was terrible. The restaurant was not very full, but we waited almost an hour for our food and DS7 actually fell asleep at the table waiting.
The Hogwarts light show was nice and fun, though I would not classify it as "not to be missed." I will say, the night I was there (by myself-DH and the kids went swimming-yay!), the park was open until 9 and the show didn't start until 8:45 and it only ran twice, so if you want to see it, be aware of that. The best part was that after the first show, I walked onto Flight of the Hippogriff and then got into line for Forbidden Journey right before close. I took the EP line and was able to stand on the stairs by myself for a few minutes, listening to the portraits talk to each other. Then I walked into Dumbledore's office and listened to a full round of his talk, with on one else around, so I could actually hear it. Ditto in the Defense Against the Dark Arts Room. I then walked onto the ride. When I exited, Hogsmeade was fairly empty and I was able to do some spells and really take it all in. This was one of my favorite nights.
And those of you who fear Rip Ride Rocket, you should know, DS7, who just barely made the height requirement, declared it his second favorite ride, right behind Forbidden Journey. I sat with him the first time he rode it, and he literally showed no fear, even turning to my somewhat nervous DS13 and saying "if you get scared, just look at me". He was laughing and cheering all the way through and then proceeded to ride it two more times!

The team members we encountered were all amazing and friendly, even when they were standing outside rides in temperatures of 102 with the Real Feel. We felt welcomed and appreciated everywhere we went.
All in all, an amazing trip. And it made me wonder once again how people can say anything more than 3 days is too much for Universal. We had 4.5 days and definitely could have stayed longer. But, like with anything, I guess it is what you make of it.