My first trip report so bear with me!
Cast: me, DH, DS17, DD14. Not our first trip. Most recent was just a year ago.
We started at Universal Sunday through Tuesday then moved to Disney.
Sunday:
Arrived at MCO from snowy PA at about 1:15 pm. Collected bags and hopped in a taxi. Arrived at Hard Rock by 2:30pm.
We had reservations for a Garden View Room with 2 Queen beds and a rollaway (extra $25) for $275 which I had booked with an AP discount even thought we didn't have AP, yet. Regular rate was $435, I think. The desk agent and I chatted a bit, bonded over some Game of Thrones jokes, made fun of my teenagers, etc. She then offered to move us to a room that had 2Q and a pull out sofa so we wouldn't have to pay the $25 for the rollaway. I, of course, gladly accepted. I then went over to the ticketing agent located in the lobby and upgraded my Buy-2-days-get-2-days Park-to-Park ticket to an AP for $30, thereby qualifying for the AP room discount. Not that anyone asked to see proof. So, for $580+taxes I got two nights in a Deluxe Queen room (current rate $580/night) and three days of Unlimited EP ($100/person/day that week). Not a bad deal!
As we stood in the lobby arguing with sullen teens about going to the pool vs going to the parks, I got a text the room was ready. The upgraded room was significantly larger than we expected as it was an accessible room. Nice to have that kind of space with aforementioned teens. As we were about to head out, there was a knock on the door and this was delivered for my DH.
![IMG_0373|505x500]
We decided to head to the parks and knock out the water rides while it was hot (we learned last time it gets chilly pretty quickly after sunset). We had a lovely 10 minute walk to IoA. We hit Jurassic Park, Bilge-Rat Barges (soaking ride), and Ripsaw Falls all in a row after parking our bag in a locker ($4!). Had a quick snack then headed to Kong (surprisingly fun). Everything we rode had an EP line. I think we waited the most for Ripsaw Falls and it was 20 minutes. Line just wasn't moving at all. Bilge-Rat Barges was literally a walk on for EP.
The snack didn't hold off the teenage hunger for long and it was getting close to closing time so we headed back into Hogsmead. Dinner at the Three Broomsticks is lovely when you sit on the patio out back.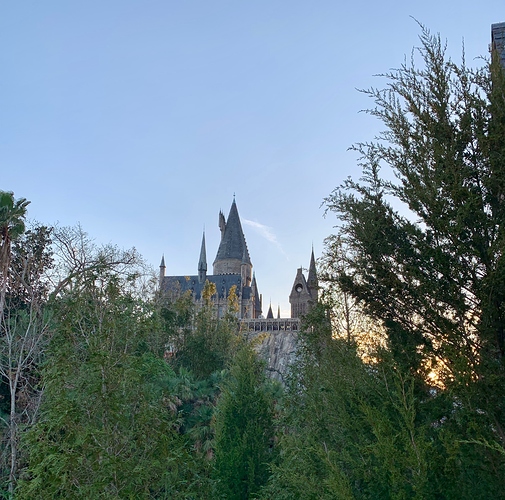 After dinner I grabbed a Butterbeer and we headed out.
Last trip we rode the Dr. Suess train right at the end of the night on a lark. My kids were nostalgic so we did it again this time. Really a cute ride and great view of the parks and city walk at night. Took the boat back to HRH just because it's a pretty ride.