Well I've fussed enough over this trip with all of your help and advice so in case anyone is interested I'll update on how it's going! Party is myself, DS12, DD8, DD4, my mother, a friend and her DS12.
I'll start with the day before we left because that's when it got really interesting. I was packing, going to DS17's football game (because Covid in Illinois means spring football!) and preparing to celebrate DS19's birthday. Noticed I missed a call from LBV and voicemail was from Disney asking me to call back by 6 pm. I called back and didn't get the CM who called me, but was transferred to another. We had 2 rooms at ASM for the 5 of us and my friend had another. The CM informed me she had some pixie dust for me and wanted to offer to move our party of 5 to a family suite at AOA. I declined since we really wanted 4 actual beds, so she said she would check to see what else was available but then said there was nothing else. So I thanked her and hung up, admittedly disappointed. Soon after my friend texts me and she is on the phone with the original CM who had first called. They offered her AOA also, apparently there was some mention of connecting LM rooms for us, but then somehow it morphed into transferring us all to the Grand Floridian!!! Still with 3 rooms total for the lot of us and connecting rooms for my five. We were so incredibly excited!!
After celebrating Easter at home with our family, we packed up my husbands car, since mine decided it had emissions trouble the day before, and headed to the airport. No crowds, more was open in the airport than I expected on Easter, and our plane was 3/4 full. Flight went well. I had chickened out on DME because I really didn't want to have to wait, wanted to get the girls to bed ASAP. So I reserved a Quicksilver van to transport us which went very well. They had a car seat and got us out fairly quick. Only issue was finding him at baggage claim since it was utter chaos there.
We were placed in first floor connecting rooms overlooking the lagoon at GF. Rooms are very nice, beds soft and cushy and furniture is beautiful, and the resort itself is lovely. We feel spoiled, but I still wouldn't pay their full price or even current AP price for a room here. It's crazy high. My only complaint is there is no door between the sink area and bedroom, so no privacy or blocking the light from those asleep. But it seems that is standard in deluxe level, not sure why value/mod is better in that regard. Our friends' room was up the hall but right by the elevator, and they had to request a room change the next morning due to noise from elevator and neighbors. Which the hotel accommodated with no problem.
This AM we were up bright and early for boarding groups and I got my all-time lowest at BG5!!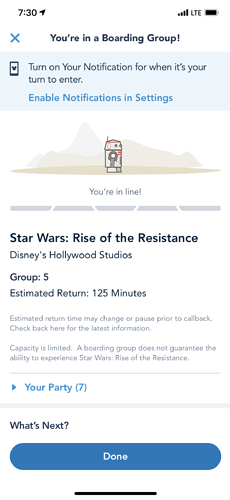 I was on cell service even though it was a measly 2-3 mbps. 5 of us tried, some on WiFi and some not. Everyone was linked and was included. We headed out to the bus stop at 7:15ish and arrived around 7:20. The bus CM actually nearly told me to leave, repeating firmly "buses to HS don't start until 45 min before opening!" I firmly replied we would wait, and lo and behold at 7:40 the first HS bus arrived. We arrived at the park at 8:03 and they opened screens at 8:10. Further behind than when we walked from YC, but not too bad.
We opted first for SDD, AS2 and then MFSR and were off those by 9:27. Because we were a group of 7 we had to split; I was surprised they gave my DD4 and I our own cabin so we both got to be pilots!! I had always deferred to my sons or got engineer so it was my first run as pilot. Very fun!! We rode ROTR, had blue milk, early lunch at ABC Commissary which was very good. Oga's was a great break mid-afternoon. Kids had two rounds of carbon freezes which led to the below problem! 50s PT for early dinner was great except for the reception CM. We were coming out of Frozen show right at our ADR time and my DDs needed the bathroom badly. So I took them and the rest of the group went to check in for dinner; we hurried over ASAP. The CM checking people in repeatedly threatened them that if the rest of our group didn't arrive within 5 minutes, they would not seat us for our ADR. My mom and friend were really upset by this treatment. During dinner I asked for the manager and explained what had happened, as I was appalled and it ruined the good mood of the meal for them. He was very apologetic and made sure we were well cared for the rest of the meal (even though our waitress was wonderful). Loved the onion rings, apple crisp was panned (just canned apple pie filling with topping) and I had to try the PBJ shake - it was ok but I'd rather have chocolate. We headed back to resort after a few more rides and were thrilled to catch the Electrical Water Pageant from our balcony - another first for all of us!