Can anyone tell me what time this show begins and how long it lasts? Thanks!
Found this:
And a related link say it is "ongoing from dusk to park close." Super helpful!
That's about all I can find, too!
The first week in May the first one started around 8:30pm (DH and I were texting). There was a second show as well. Park closed at 9pm. They really do have to wait til dusk, it's like fireworks or any other light show held at night where times will vary depending on when the sun sets.
When we went last year, it was ongoing from I want to say around 8:30, and it was about 5-7 minutes long. I'm not sure how long the updated show is, but we were able to catch it about 3-4 times. Plus, if you go on the buckbeak ride, there's no line, and the show looks great from that angle (we normally avoid that ride because the lines are long, and the ride is pretty short. However, we loved it during the show, and rode it about four times with no wait).
I'm curious…what is Civil Twilight?
I had no idea but the times seemed to line up. Based on this graphic it has something to do with the angle of the sun and horizon; nautical twilight comes after civil twilight and before astronomical twilight.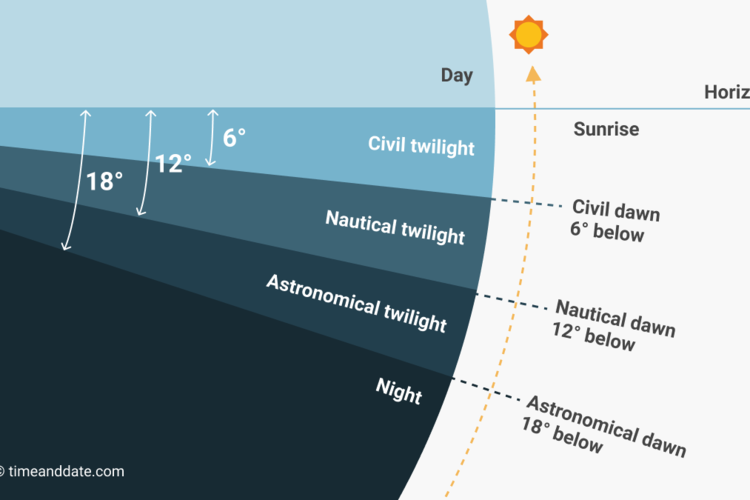 Wow! I learned something new today! Thanks!
You might have noticed that it's not actually nighttime-style dark at sunset. This is because sunlight still leaks above the horizon. This effect is even more pronounced in the middle of the ocean when the view of the horizon is completely unobstructed.
I actually did know this! I was just not aware that what I considered "twilight" in general was broken into different categories. (I have also been trying very hard to resist making any Edward Cullen-esqe jokes throughout this discussion!)