That sounds amazing! Were there truffala trees involved?
Well I got a $200 Disney Gift Card for Christmas so enable away…up to $200.
That looks GREAT and very creative!!!
At the time (17 years ago). You could not find anything Dr. Seuss for a nursery. Years later they came up with some really cute stuff, but it was too late for us.
I just love this thread! Thank you for making my day again.
101 Dalmatians is one of my favourites! I used to have this mug but it broke.

I also have this one - the dogs are revealed with heat.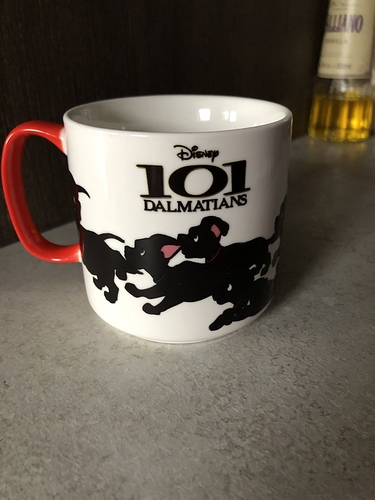 But I will show my Disneyland 50th anniversary Pirates of the Caribbean stein
Well, I didn't really
NEED
another mug, but as our (
@hmbhmbhmb
) May trip is looking less and less likely, I got another one to tide me over.
I love these new Mickey shorts. I need a potato land mug.
I Love that mug and that short too!!
For some reason I woke up on this Moanday with the Grim Grinning Ghosts come out to socialize song stuck in my head, so I'm going with my Haunted Mansion mug
I have the emoji one too!
I'm in a rental house with no to go coffee cups and mine are all packed so I picked this up on my trip
I don't know what that is.