Who: Me and DH
What: 3rd trip to WDW since re-opening
Where: Caribbean Beach Resort (Room 5542)
When: September 23rd to September 27th
We have been fortunate enough to make two prior visits to WDW since their re-opening. The first was for the MK re-opening AP preview then we returned about a week later after the public re-opening of all of the parks. I had seen a few trip reports and watching wait times, so I was going into this trip anticipating that the unicorn of our July trips was probably not going to happen on this third trip. Spoiler Alert – it definitely was not the same experience. So, for those who went in the first weeks after re-opening and are planning to go again, I will try to include my observations comparing the two trips. YMMV
Day 1 – Arrival Day and Hollywood Studios
Our flight arrived on time at MCO at 10:20 am. Mask compliance at MCO was far better than what we saw during our last two trips (both in July) so that was a plus. We got our luggage and headed to DME. There were 3 families in front of us, but it moved quickly. We boarded the bus within 5 minutes. The seating was assigned and staggered as it was on our previous visits. The bus was definitely more full than previous trips and we made a lot of stops! We stopped individually at Boardwalk, Beach Club, Yacht Club, CBR (our stop) then Pop Century. It was nice to see that the DME video has been updated to include the Incredibles and the safety/mask/social distancing message. That wasn't there in July and it just felt odd to see all of these people excited about Disney and not wearing masks
Our room wasn't ready yet so we stored our luggage and headed for the Skyliner to Hollywood Studios. We were in the park by 12:30 and made our way to SWGE (DH is a HUGE SW fan so this is now our first stop in HS on every trip). We grabbed some Blue Milk (with Rum is the best!), saw some characters and, went to lunch at Docking Bay 7.
I will say, it was hot out, so so hot out. And it was crowded. Mask compliance was great (I had made a conscious effort to not let lack of mask compliance get to me during this trip so maybe I just wasn't paying as much attention to it but for the whole trip, it really did seem very good).
When we took our July trips, those were the first times we had really been out and about since COVID so, during those two trips, I was much more anxious about masks, physical distancing…etc. That was also a time when FL positivity rates were out of control so I really was second-guessing our decision to travel there at that time. But after the first trip, we were so impressed with the measures Disney took, we felt very comfortable returning a week later.
Now that the positivity trends are so much better, there was never a second thought about returning for this trip.
On this trip, I wasn't too concerned if we did see someone not wearing a mask properly if we were outside (whereas in July, it really did make me nervous). We were vigilant about where we walked, if we saw a large group (and there were lots of them!) we could adjust our path. It was crowded (far more crowded than July) but it never felt unsafe or hindered our ability to move about. Did it impact some of the things we chose to do, yes. But more on that later.

After lunch and doing some Photo Pass shots, we tried to determine what to do next. This was my only day at HS (DH would be coming back tomorrow while I hit EPCOT) and I really wanted to do ToT (we didn't do it on our trip in July) and some of the non-star wars things. I enjoy SWGE but I can't stay there all day the way DH can.
This is where I made a few realizations: Arriving at HS in the middle of the day is a horrible idea. I really thought that with it being a Wednesday, it wouldn't be that bad. I am sure it was better than being there on a weekend day but not being able to do rope drop was a real hindrance. Luckily, we did MMRR on our last trip. It is cute and I would do it again but not if it meant waiting 70+ minutes.
We headed out of SWGE and it was getting close to 2 so we wanted to try for a BG. We found a spot across from Indiana Jones and waited. We have had amazing luck with getting a BG but the process just stresses me out so much. We knew that since we weren't arriving until the afternoon, the chances of getting BG were greatly reduced. And even if we got one, we may not ride due to the regular breakdowns. That is why DH was going to hit up HS again tomorrow. But, we didn't have to worry because we were able to get back up BG 78!! Such relief.


There were a few things I wanted to do that we hadn't done before and the first was to see Vacation Fun. So we headed there next and it was a super cute short. I don't think I had ever been in that theater and it was a nice break from the heat.

After that, we walked down to ToT but the line was out near BATB. Now, with the distancing, I understand the wait wasn't as bad as it looked but honestly, I wasn't going to wait 40 minutes. I am so spoiled with having mastered the prior FP+ system and not having to wait long, it just didn't seem worth it. And, knowing the lines/wait would be longer, that meant more time inside in cramped spaces with lots of people. We are lucky that we get to the parks frequently so there is really no "must do" ride at this point (DH would disagree because for him Rise is a must-do).

We spent some time going into the shops and got some ice cream now that Hollywood Scoops is back open.
We caught all of the cavalcades (we missed the one with Mickey and Minnie on our last trip). I really love the cavalcades. They are so much fun.

An observation about the cavalcades – I understand the intent is to make these spontaneous so that people don't line up to wait for them and to aid in distancing. In reality, only part of that is happening. As soon as people hear the music signaling the cavalcade is starting, everyone stops and lines the route. Again, this didn't bother me this trip because we are outside and it really isn't for very long. The cavalcades are so short that you are maybe in that crowded area for 5 minutes tops. But, you will likely not be 6 feet apart from anyone when they go by!
Consistently on this trip, I found a few things to be true:
when there are no "wait here" markers, distancing falls apart.

When there are no "stand here" markers (like in MK) but there is a cavalcade, distancing falls apart.

When people are in shops, distancing falls apart (this wasn't horrible since they do limit capacity to the stores but still good to anticipate).

When waiting for mobile orders, distancing falls apart.

We headed to Toy Story Land – TSMM was down to a manageable 20 min wait so finally, at 3:30, we rode our first ride of the day!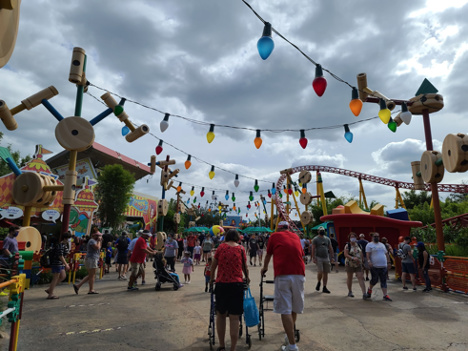 We finished that just in time to head back to SWGE for our 4:00 Oga's reservation.
It definitely has a different vibe with fewer people but we actually got to sit (in real bar stools) at the bar so that was nice.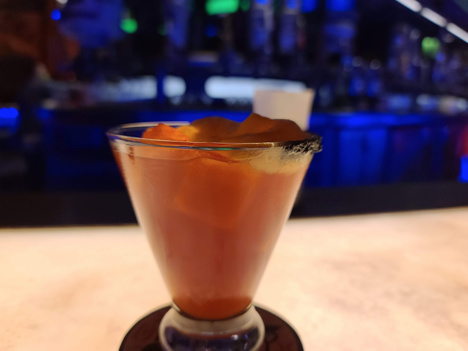 As we were finishing up our drinks, our BG got called (4:30)!!!
Amazingly enough, we actually got on the attraction after 31 minutes and we made it through the whole ride. We have ridden over a dozen times and I think there have only been 2 times that we haven't been evacuated off the ride or stopped during the ride. We have great luck with getting a BG but not always making it onto and through the whole ride.
Personally, I love getting placed on number 4 (back of the transport) or 6 (front of the transport) and we got number 6 this time.

When the ride works, it is amazing. This time the audio was slightly glitchy in a few parts but otherwise, all was seamless.
Star Tours was a pretty short wait (I think 20 min which is the lowest it had been since we had been there) so we did that next. Yes, by 6:00 we had done a whopping 3 rides 
We had a 6:50 dinner reservation at Sci-Fi Dine-In so we killed some time by walking through SWGE again and then checked in online at 6:30 and were seated by 6:35.

One of the reasons I booked a later dinner was to see the park at night. I really miss the Disney parks at night and seeing all of the lights. After we were finished with dinner, we walked back to the front of the park. By this time, it was about 7:30 (park close was 7) but there were still lots of people around the theater and milling about. It was such a beautiful night and I loved seeing things lit up!

We headed out to the Skyliner at around 7:45 and I was shocked to see the line. It stretched all the way back to the bus directory sign and then looped back to the Skyliner station. Even with the distancing and only loading 1 family per car, it was still only a 15 min wait so not bad at all.

We had received our room ready text so we walked to the lobby and got our bags. We also had our Owners Locker (first time!) so had to pick that up. We were so tired but figured walking to the lobby and requesting the bags be brought to our room would be faster than calling bell services from the room. We loaded up on snacks and water in the gift shop (mobile order looked like it was going to be a while) and our bags arrived about 10 min later.
Channel 74 plays a loop of HEA from 6 to 10….I may have watched it for over an hour
I loved the location of our room (room request was just 1 door off from what I requested). We were in Aruba and so close to the Riviera and that Skyliner station. We stayed at the Riviera in February and I fell in love with the resort so it was great being so close for easy walking to their QS (and just to walk in and smell the Riviera lobby smell!).
I also love the look of it, especially at night.
Thoughts from the day:
• In late September, it is still ungodly hot out. The humidity wasn't quite as bad as in July but heat index was still over 100.
• No rain! That was a true blessing
• Mask compliance was great both in the airport and within Disney (hotel and parks)
• Lines were long. If you don't know any better, they are fine. But if you do know better…not so much!
• I'm glad we didn't feel the need to ride all the rides (or even half of them) because it would have been a really disappointing day. Instead, we did things we hadn't done before, got lots of Photo Pass shots, ate a lot, shopped a lot, and just paid a lot more attention to the little things
• There were so many kids! Far more than I was expecting. Lots of EVCs too. In July both of those were few and far between and it was so nice. I don't know if there were more kids because some schools haven't started yet or because they are virtual, there isn't the need to be home but it was really surprising (especially on a Wednesday!)
Tomorrow: I go to EPCOT for F&W, Merch, and Cavalcades. DH goes to HS to try for another BG and enjoy the day in SWGE