Some details from Scott Gustin:
https://twitter.com/scottgustin/status/1580211735704662016?s=46&t=1CN_CAY6LUWKJvKpj5ebxg
NEW: MagicBand+ officially debuts at Disneyland Resort on Oct. 26. Starting Oct. 19, Magic Key holders, DVC and Cast will get early access.
MB+ will be available at select DLR locations starting Oct. 19 for those eligible for early access – and more locations on Oct. 26.
A Magic Key band will be available for Magic Key holders. The price is $44.99 but MK holders get $10 off (reducing to $34.99) plus their MK merch discount.
The regular MK merch discount (not the $10 off) will also apply to the standard bands ($34.99).
Disneyland announced yesterday MB+ will interact with "Believe… in Holiday Magic" and "World of Color – Season of Light." The band will interact with other spectaculars, too.
All MagicBand+ bands will work at Disneyland. If you purchased at WDW, ShopDisney, etc. – all work and can be linked in the Disneyland app.
However - it's important to note previous iterations of MagicBand will not work at Disneyland.
Disneyland also announced today MagicBand+ will interact with the upcoming "World of Color – One" at Disney California Adventure and "Wondrous Journeys" at Disneyland debuting on Jan. 27, 2023.
MB+ will also interact with certain attractions inside the parks. For example - you might notice your MB+ light up when Spider-Man takes flight in Avengers Campus.
As previously announced, Bounty Hunter will also launch in Galaxy's Edge. Also MB+ will work for park entry, Lightning Lane, and linking PhotoPass photos.
More info here:
Usually tweets show a preview. Not sure what's up.
Same with the link I copied
I'm not sure what I did
I just updated with all the text pasted.
The one thing I'm curious about is this part:
Have there been reports of adding taps to the front gates, attraction entrances, etc? I didn't see them when I was there in September, but maybe they are hidden in the scanners?
I will be there next Tuesday for the day and plan to check all the things out. Will definitely report in.
yay! I got mine for my Dec WDW trip and now I can use them in my DLR Nov Trip. I will be doing a West Coast vs East Coast: Christmas trip report
When it says the band will interact with the different shows will it be like those Glow with the show ears?!?!
imo there was nothing worse than to watch F! with those ears flashing right in front of you the whole time
You can turn that off in settings.
Yeah it's going to be exactly like that. Except bands will be less disruptive since they're not in the line of sight.
Almost the same! We leave in 16 days for DL and got MB+ for our WDW trips in Jan and March!!
Yay! Disney therapy is a real thing. I think we should market it as a medical treatment. LOL
The video from the parks blog shows the gate CMs using the standard handheld scanner with the MagicBand+, so it doesn't look like they're going to install taps like WDW.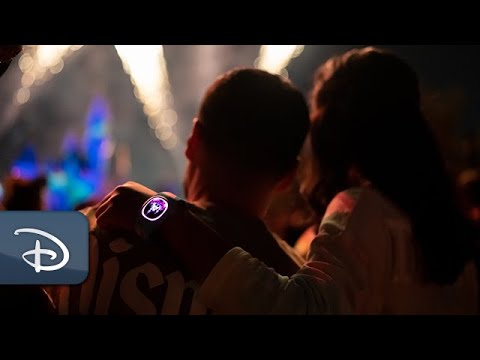 It also shows tapping the band on something…so maybe not the same as WDW but it does not appear you need a CM to scan you for everything.
Tapping into Lightning Lanes.