Who: 4 Generations (Great Grandmother, Grandmother/Grandfather, Mom, Dad (me), Son (almost 3), and Daughter (almost 1)… truth is, we just booked the Airbnb a full 495 days in advance and our daughter hasn't been born yet, but details… details… (we booked our son's first trip while my wife was still pregnant as well… so apparently it's a trend)
When: Friday 12-Nov-2021 till Saturday 20-Nov-2021… here is my logic:
I am a HUGE fan of Disney during Christmas time, but my wife is concerned that if we go to Disney between Thanksgiving and Christmas then we won't be able to develop family Christmas traditions back home. I see her viewpoint and I'm technically obeying it
This gave me the Nov 1st - Nov 25th timeframe to work within. I knew that I wanted nine days (1 day for travel, 3 park days, 1 hotel day, 3 park days, 1 day for travel). I also know that Veteran's Day (Thursday Nov 11th) is usually very busy and the Saturday before Thanksgiving (November 21st) usually starts the busy Thanksgiving Week. Finally, I wanted to minimize the number of weekdays on the trip (even though this increases park crowds)… that left me with Friday Nov 12 and Saturday Nov 20th as my "travel days".
I should also mention that we want to go to Disney every other year while the kids are "too young to remember" and then switch to every year when they're the "prime age"… we went in 2019, so skipping 2020 was already part of our plan.
What: Because we will have a 1 and 3 year old, I really want to spend a good deal of time in the Magic Kingdom. Therefore, we'll be going on two separate days. We will also have a full day dedicated to each of the other parks and finally a full day for Orlando Studios (mostly for Harry Potter but I will sneak on some thrill rides as well). The adults on the trip may have Hopper Passes for nighttime restaurants, fireworks, etc, but I won't be dragging the kids out anywhere late.
Because I know the limits of the group I'm going with, I want to split up this trip into three parts - the first will have 3 park days where 1 is MK, then a rest day at the hotel/pool/spa, and then another 3 park days where 1 is MK.
Where: I started off this post by saying it's our first trip outside the bubble, and it sure is! As a child, I went to Disney three times - always at Port Orleans. My wife went four times and only remembers staying at the Yacht Club. In 2019, we went for the first time as a couple (and first time in ~15 years for each of us!) We brought our son, my mother, and my grandmother. We went to Port Orleans and it was awesome! That said, we want more bedrooms this time as we want the kids to each have their own rooms, and that starts to really add up.
So, we're staying at a beautiful Airbnb!! (link to house)
It has five bedrooms, three bathrooms, a private, baby-gated, heated pool with a jacuzzi, and a kitchen, etc! We're very excited to not only save a fortune (house costs $285 a night including all taxes and fees) but we can also cook our own meals. We are especially excited about breakfast as the hotel didn't have many good gluten free options for my wife, the children's options weren't amazing either, and the portions were rather large for my grandmother.
I'm also looking forward to having a freezer stocked full of Mickey Pops and other (mostly) Disney desserts!
(Note: The house is fully refundable up to two weeks prior to check-in and the host is a "Super Host" on Airbnb so I'm feeling good about it.)
I may post about the various gated communities outside of WDW later if there is an interest. They are similar to one another but slightly different. We decided to stay in the Windsor Palms community. Although it's the second closest to WDW (3 miles away), the amenities are not as nice as the other communities. That said, we loved the house - especially because of the baby-gate around the pool, and we feel as though our family won't be visiting the club house much if at all. That said, they do have a pool, tennis and basketball courts, a small grocery selection, etc. The nicer communities have better pools, water slides, grounds, and golf access.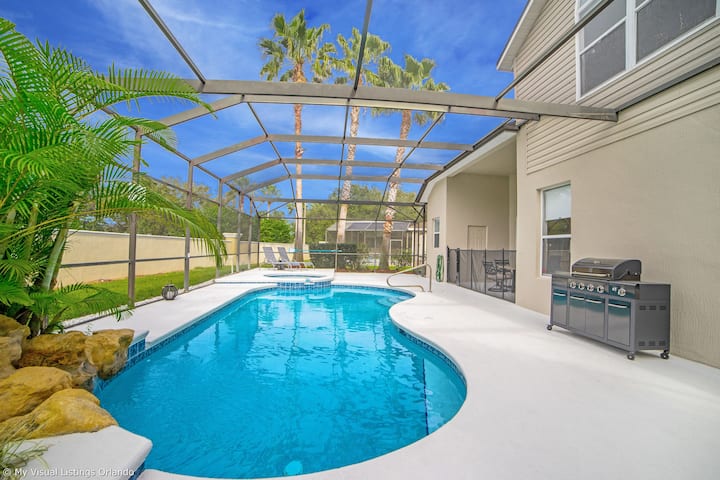 How
: We'll be flying JetBlue as they have great nonstop flights from Boston. Once in Orlando, I'm planning on renting a 12 passenger Ford Transit Van from one of the rental companies that are INSIDE the terminal, most likely Avis. This will give us plenty of room and allow us to travel to the parks as a group. If folks want to venture somewhere by themselves, there's always Uber/Lyft.
—————-
I hope it's ok, but I would like to use this thread as a "journal" for my planning thoughts - and I hope you let me know your opinions too! Obviously as we are there, I will update it as a true trip report as well.
Finally, I hope that my experience (assuming it all goes well) can show people that staying outside of the bubble can be magical. I feel like people, especially "Magical Gatherings" as the large family trips used to be called, can often spend a small fortune on hotel accommodations and I have a suspicion that it's not necessary… well, we'll find out!