While not specifically WDW related, we're in San Francisco for a wedding this weekend, and stopped in this afternoon at the Walt Disney Family Museum. It was wonderful!!! Made me even more excited for my trip next month, and I thought some of you all might appreciate a few of the photos.
This was the floor in the area about the Parks - it's meant to replicate the initial model of Epcot.

This was one of Walt's actual minitature trains.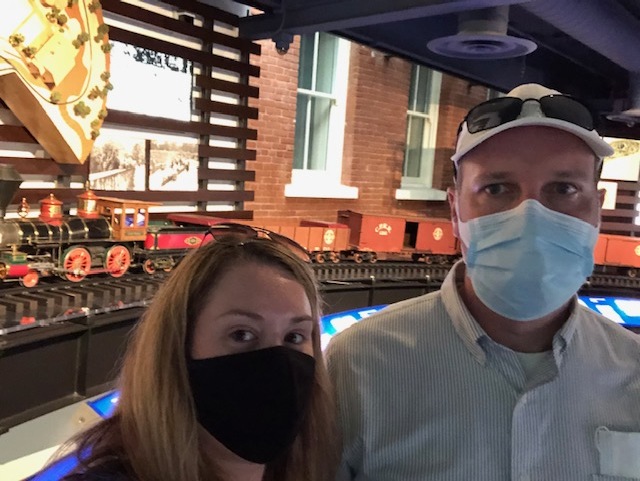 This was the view from the second floor - that's the Golden Gate in the background. It's located in the "Presideo"

These were some of Walt's Oscars, including a commemorative one for Snow White and the Seven Dwarves, which has the little mini Oscars with it.

This was the temporary exhibit, which talked about Walt and the Studios contributions to the war efforts. I didn't know that Saludos Amigos and Tres Caballeros were actually part of an effort called "Good Neighbor" that was to make us more of an "ally" to Central and South America during this time, so they didn't ally with the Axis powers.
A model of Disneyland. Apparently it doesn't represent any one date or time of the park, but rather all the different attractions that Walt worked on over his life. There was a docent standing there next to it, and I pointed out all the rides and she was like "um, do you want a job here?"

The marketing efforts leading up to the opening of Disneyland. Apparently in order to secure the rights to the weekly Walt Disney tv show, ABC was a major investor in Disneyland - that relationship clearly worked out!
Some early Mickey sketches, and Mickey's backstory.

The Alice shorts, which were Walt's first foray into animation, which combined it with a live action girl. These were sold to Univesal, before there even was a Mickey Mouse
It was very neat. Hope you all enjoyed!