They're splitting it! Totes fine.
I think if I said yes that might mean my vacation tradition of splitting a crammed box of Voodoo with my sister and niece would be "too much". So no, where are the cruel parents that are making them share?
For two small kids, yes. My family of 4 just shared one for breakfast the other day. It was very good!
Nah it's fine. They need the sugar for energy to make it to the fireworks. In normal times at least.
How do we know they're starting the day with that donut? Maybe it's an early dinner…
Would I allow that much sugar on a regular day? Hell no. Would I allow it once, on a vacation? Probably.
But, in all honesty most american breakfast choices are very sugar heavy. Even if you compare the same brand of cereal, one box from Europe, the other from America, the US one has way more sugar.
It's strawberry frosting… how else do you get your daily servings of fruit?
I would. But our vacation eating is different from our regular, everyday meals. And, my two girls would have eaten part of that and my husband would have finished it for them
.
After the past year, I no longer judge anyone for these types of decisions. Trying to WFH with two young, wild boys, literally I threw all the rules out the window (ok, not all the rules, but I definitely let a LOT of things go). You want a popsicle at 9AM? Go for it - if you'll let me finish this call in peace I don't care.
So, giant donut for breakfast on vacation? Sounds great. Have at it
We all need a little happiness, and if that's in the form of sugar coma, so be it.
Looks like a fun memory! Kids are so active on Vacation, special times and special treats make for great memories and traditions! My 3 boys would have devoured that big donut! Where can one find such a donut?
Amazing! I dont think my girls would actually be able to finish it—- but the memory if me letting them would rule the vacation!
Remember when Mom let us have that HUGE donut!!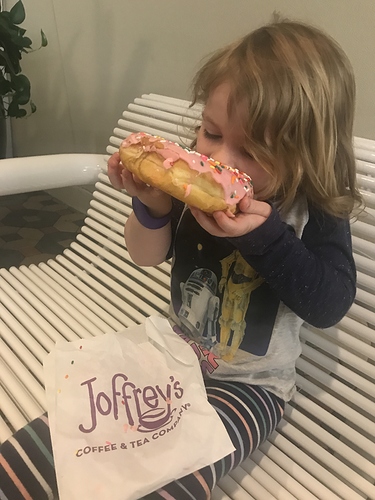 I've done scientific research on this. She was 2.5 years old and this was 6am before the tragical express.
This was her a few hours later on the plane ride home. This girl never napped willingly.
Too much sugar? Yes. Would I buy it for my kid on vacation? Also yes. (Would he eat it all? Definitely not.) I've spent the last year saying "no" an awful lot. Our next trip I decided I'll say yes to anything reasonable. He deserves a little yes.
Oh and to add a story. Back in 2017, we spent a week with my extended family at Disney. One of my nephews was just a hair short for all the "cool rides" and upset every time he couldn't do the ride with his bigger siblings. When he couldn't do ToT, his grandpa stayed with him and bought him a big donut like this to make up for it.
Fast forward to 2019 and we go again with the same group, all my nephew could talk about on our way to Hollywood Studios was the memory of the "donut as big as his face." It's often the little things that mean the most.
Mmmm… Lard Lad
It's just forced perspective… the donut isn't that big… and the kids aren't that small…
Yes, but my kids would never finish it. My oldest and youngest would give it a shot. My middle child would never take a bite if there were savory breakfast options. I'm the same way. Eggs, bacon, sausage, and hash browns? Yes, please!