mums the word
It's a zoom shot that comes with a short video. Look for the photographer with an Ipad in the hub, near the east side plaza. They also do one in Galaxy's Edge at Hollywood Studios.
If you look closely, you'll see my son and I standing where the photo is taken, in the lower right side of the picture.
Day 6 – August 18
Today's plan was to ride MMRR at park opening, and to secure a boarding group for Rise of the Resistance while waiting in line. Everything else would be a bonus. While we walked to HS and approached Hollywood Studios, I realized how important to me in a WDW vacation is the ability to walk long distances in pleasant, well-cared for, environments. People often ask me why I return to WDW year after year, and I sometimes struggle to find an explanation which they, people who have mostly experienced the parks in a rush to ride all the rides to make the children happy, would understand. I've visited Disney parks as a child, a young adult, a mother of young children, and a mature lady. While the feeling of joy and whimsical amazement has always been present, the way I've enjoyed the parks has changed, because it is true that there is something for everyone at Walt Disney World. This time there were no special experiences to look forward to, but the feeling of being safe and entertained was still strong. And I was as happy as I've always been here. The day turned out to be a lucky one, as we got a BG just before boarding Mickey and Minnie's Runaway Railway, the cutest ride ever. After trying to better my score riding Toy Story Mania three times in a row, I took a break to people watch while my boys rode RNRC. I guess I should confess to never having had the courage to go on this one! And Space Mountain…


We have a tradition of eating at Sci Fi Diner, one of the most difficult reservations to get in my experience, along with Dine with an Imagineer (which was not being offered at the time of our stay
). We like the respite from the heat in the cool, dark setting, and the burgers and milkshakes are consistently fine. Our reservation was at 1:35, so by the time we had lunch we had already been on all the rides, and without shows to fill in the midday hours, we decided to head back to the resort when we were done eating. After all, we could still admire the view of TOT from our window!


That evening we had a dinner reservation at Trattoria al Forno. This was my second "I should've known better" moment of our trip. I don't want to upset anyone, nor deny that many people have had tasty meals there, but we live in Italy, so the last thing we should have been doing was dining at an Italian restaurant outside of the country. But there really weren't many options available, and I guess we got a little lazy, so I thought, why not give it a try. How bad could it be, after all? We could just momentarily set aside our familiarity with real Italian cooking, and be open-minded about the food that would be presented to us, I told myself. We could forget that it was supposed to be Italian, and enjoy it for what it was, I told the boys. Well, I was wrong.
We had calamari fritti, lasagna, pizza di capicollo, and pasta alla bolognese.


It all looks deceptively good, but for us it was the worse meal we've ever had at WDW. We just couldn't find any redeeming qualities, except for the pizza which wasn't bad at all.
Again we were there at HS that day! We also got our BG right before getting on MMRR. We must have been very close to each other and just didn't know it.
I struggle to explain to people why I keep going back to Disney as well. But I figure everyone here on the forum must get it.
Day 7 – August 19
Did I mention how much I love staying at one the Boardwalk resorts on an Epcot day? How luxurious it is to have an amazing playground in your backyard! In the morning the three of us set out to enjoy some more of the Food and Wine Festival offerings, and to ride the headliners.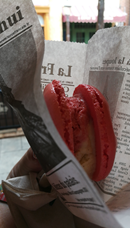 After a stop at Les Artisan des Glaces on our way out of the park, and a break at the resort, DS21 and I returned to Epcot for some shopping and more food. One of our favorite stores is Mitsukoshi, where we took our time to browse through everything. Uncrowded shops make it easier to be attracted to nice things, so I made a few small purchases.


We also stopped at the stand in Mexico for a delicious Mango Smoky Margarita: mango purée, mezcal, applejack, lime juice, and agave nectar with a Tajín chile-lime rim, which I took over to the Hawaian stand for the spam hash. Yum!
I love the spam hash
that was my first experience trying spam and it was a good one
that picture of SSE and the clouds is gorgeous!!
Thank you!
Day 8 – August 20

Moving day! I love split stays. In my mind, a resort day is just as much fun as a park day, so why not experience more than one during your vacation! While the Boardwalk was one of the resorts I had originally booked for our first, cancelled, April trip, I kept on changing the second resort of our stay according to the news that was coming out of WDW during the closure and the reopening. I initially made reservations at the Grand Floridian (but the NBA got in the way of that one), then a Garden room at The Contemporary (we've never stayed at the CR), then I decided we'd need a little more room to spread out after being cooped up in our European sized apartment for 3 months on lockdown, so I booked a one-bedroom preferred room at Saratoga Springs for an easy walk to Disney Springs for meals. I don't remember how that turned into a booking at Old Key West (and I sort of regret it since the boat wasn't running so we were forced to take the bus to DS). But there you have it. Today was our no-park day because DS21 had a 14-day UK ultimate ticket for our 15-day stay, so I thought that we could take it easy today since we were changing resorts. After packing at a leisurely pace, we dropped off our luggage with Bell Services at BWV so it could be sent to OKW. Then we hopped on a bus to Disney Springs for some shopping and lunch at The Boathouse, one of our favorite restaurants. We were quite relaxed and happy that morning, so walking around the World of Disney and sitting outside at the Boathouse enjoing a lobster roll with truffle fries felt like the best times ever.


Around 1:30 we caught the bus to Old Key West. It was our first time there so I was looking forward to the newness of it all. The lobby was quiet when we arrived, so checking in early wasn't an issue. At first we were assigned a room in the Miller's Road area, but the Cast Member who was checking us in quickly picked up on the fact that I was slightly dismayed by the walking distance to the Hospitality House, so she offered to change the room. We ended up getting a ground floor room in block 2800 on Peninsular Road which turned out to be a very pleasant 5 minute walk over the bridge to the main facilities. So we find our way over to our room, enjoying the view along the way even though the hot mid-afternoon sun was beating down on us. We're very much looking forward to relaxing in what we imagined to be a spacious, cool room. I lead the way to the door, touching my magic band to the knob. Red light! What? I try again, and so do my sons. No dice. The door won't open for us. Aaargh! I turn around to look at the sweltering road back to the lobby, and decide it's better to call. No problem, they say, we'll send someone right out to help you. 30 minutes later we're still waiting outside our room, hot and restless, so I call again. This time a CM joins us after a few minutes, letting us into the room. I suspect the issue was with the fact that we were transferring from another resort, and we had checked in before 4pm, but who knows. Although slightly wilted, we were quite pleased with the spacious accommodations, and the white ibis that came to greet us outside our patio! Soon after, our luggage was delivered, too.

That evening I had made reservations at Olivia's, the resort restaurant that has a reputation for good food. The boys had their famous fried chicken, while I went with the special, which was a tasty and nicely presented mahi mahi fish on grits with grilled brussel sprouts.
Having visited HS and Epcot twice already, MK and AK once in the first part of our vacation, this second part of our trip was planned to be less ride-centered, spending more time just relaxing at the resort, with lots of dining at Disney Springs, and some outlet shopping in the mix. Today we were having brunch at the GFC before heading to Magic Kingdom. We have always loved the Grand Floridian resort and its restaurants, so we were looking forward to spending some time there. We usually use ride share a lot while we're here, but on this trip there had been no need because of the low crowds and the great bus service. Commuting between resorts tends to be convoluted and longish on Disney transportation even in the best of times, though, so we opted for a Lyft this morning. On this ride and the few that followed we talked to the drivers a lot, to get a better understanding of the current situation in the Orlando area and to express our sympathy for the difficult times they were going through. We were dropped off at the lobby, bringing back many wonderful memories of past stays and events. Our brunch was as tasty and nicely presented as always, confirming once again that the Grand Floridian Cafe' will always be high on our dining list.


I had the eggs Benedict switching out the home fries for a tomato salad. The main resort was still closed to the general public because the NBA players were staying there, so we walked through an impressively empty lobby up the stairs to take to monorail to the Magic Kingdom. Bag and temperature check is done at the resort before boarding the train, so in just a few minutes we were entering the park. It was around midday when we headed to the hub to take a picture with the castle and the partner statue in the background, my sole aim for the day!

We unhurriedly circled the park, getting on a few rides, soaking up the atmosphere. Taking it easy at WDW in August with no crowds, being able to take in every little detail was a dream come true!
Day 10 – August 22
My heart is in Epcot, but my favorite park has become Animal Kingdom since the opening of Pandora. I feel that AK has so much to offer, from great food to amazing shows and incredibly well-themed lands. Not to mention the special tours and events when they are scheduled - in past years we've been on the Wild Africa Trek twice, we've learned about elephants in Caring for Giants, we've experienced the magic of a special performance of Festival of the Lion King followed by a fun dining experience during the unforgettable Harambe Nights. Today our plan was to arrive around midday and stay until park closing. After riding FOP and Navi River Journey we set off to skip the line at Yak and Yeti with our Landry card. The restaurant, though, was packed, and we were told that there would be a 30-minute wait, so we looked around for some shelter because it looked like it was about to rain. A lot. We were actually called 45 minutes later, the longest we waited for anything on this trip. But their ahi tuna nachos are always well worth it in my opinion! The rest of the day was spent riding attractions, and taking silly pictures. All the Photopass photographers were great on this trip, making sure we got many different magic shots.

Day 11 – August 23
Today turned out to be one of my top three favorite days of this trip. So many fantastic first experiences! At Old Key West, I had gotten into the habit of spending an hour or so at the pool in the morning while the boys slept in. The weather was on my side, because it never rained that early. And of course, very few people start their day at the pool so it was quite relaxing to be there with my trusty kindle. We love a weekend brunch, so over lockdown I had salivated over the menus trying to pick the best one. I was tempted by both the Bayou brunch at the House of Blues and the one at Wine Bar George which I booked, but at the last minute we decided we should try the legendary brunch at Chef Art's Homecomin'. We sat outside, as we were trying to avoid indoor dining as much as possible, just to be on the safe side. When our server came round to take our order, I was busy getting my head and my stomach to agree on what they wanted to eat and drink, so I didn't look up immediately. I vaguely heard him ask us where we were from, and when the boys answered that we lived in Italy his moment of silence made me raise my eyes and finally look at his name tag: Mario from Italy! So of course we had a nice long chat, exchanging stories. Then came glorious the food. Heavenly!


We wobbled out about an hour later, stuffed to the gills under an unforgiving hot sun, but happy. Our plan was to go to Hollywood Studios, and while doing so cross two more items off my wish list, ride the Skyliner and visit the newly opened Riviera Resort. So we walked the mile from the Disney Springs exit to the Rivera bus stop, which we boarded after a few minutes wait. It was a short ride to the Riviera, which we had seen being built over a couple of past stays at the Caribbean Resort. It was actually the first time I'd ever visited a newly opened WDW resort, so I was quite excited. Our excuse to be there was to take the Skyliner to HS, so we wandered around the lobby area first, admiring the pictures of Walt Disney taken, I suppose, during his European travels.


And because I enjoy washing my hands in deluxe resort powder rooms, we visited the nearby one before heading out to finally take the Skyliner for the first time. History teaches us never to board it on a full bladder!
The Skyliner is amazing for the views, and efficient for the short time it takes. Can't wait to ride the Epcot line during fireworks one day!
Day 12 – August 24
Today we had another good one lined up: morning at the Vineland Outlets for some serious shopping, Epcot in the late afternoon, followed by dinner at the newly reopened Ale & Compass. By the end of the day I would be quite broke, but happy! The stores open at 11, so I managed to get in some pool time before heading out. We were planning on taking our time and visit most of the brand name stores, so at 10:40 we hopped on a Lyft counting on low Monday crowds for an easy shopping experience. The first item we were looking for was an extra suitcase to haul all the shopping back to the resort, and ultimately back to Italy! We had a blast, got lots of good bargains, and decided we needed another day at the outlets to finish our buying spree because by 3pm we were beat. After a refreshing break at the resort, we hopped on the bus to Epcot, arriving at around 6:30.The boys and I went our separate ways, as they were going to ride Test Track and Mission Space while I wanted to visit The Land and The Seas.


This ended up being our last day at Epcot, but at the time I didn't know, so I was enjoying myself without that last-day bittersweet feeling that I get when I know I won't be coming back for a while. I was totally intent on viewing Impressions de France one last time, as it only plays for a couple of hours just before park closing, so we knew that would be our last stop before heading out the International Gateway on our leisurely walk to the Yacht Club for dinner. While we were waiting in the lobby for our reservation, I caught site of yet another Disney blogger, Tom Corless. Because there were really so few guests at the parks these days, but quite a few bloggers, spotting them had become a bit of a fun game. I saw Josh from EasyWDW so many times that he might have felt I was stalking him! We had never eaten at Ale & Compass, so I was looking forward to one of their staples, the Parker rolls and spreads. Yum!


We enjoyed our meal, and I hope we get to go back for lunch one day. Soon.
Day 13 – August 25
So, today things did not go as planned.
Inevitably, there's always an off-day and this was ours. We managed to salvage some bits when DS21 and I made our way to Disney Springs to see a movie and grab some dinner. We got $5 tickets for the 10th anniversary viewing of Inception. Neither of us had seen it, so we got comfortable in the bed-like seats and enjoyed the experience.
It was cool, it was relaxing, we couldn't ask for more. Afterwards we went to Planet Hollywood to pick up the Star Wars magic band that came with the UK 14-day tickets my son, who studies at Glasgow Uni, had purchased. The shop assistant was surprised that someone was there to claim a magicband, as it's usually only UK guests that show up. Because of Covid and the travel restrictions, nobody had been there so far that summer, so the CM had to call a manager to open the safe where the bands were stored! I was rather amused. Polite Pig (love their macaroni and cheese) and Chicken Guy were our stops to pick up some food to take back to the resort where a famished DS17 awaited us.
Day 14 – August 26
The countdown to our return home has started. The plan for today was to get to Hollywood Studios early enough for one last ride on Minnie and Mickey's Runaway Railroad, to have lunch at the Hollywood Brown Derby, then swing by the resort to pick up DS17 who decided to sit out the park, and head to Vineland Outlets again. Apparently a red Gucci belt had my son's name on it! Our day would end at Disney Springs for some good eats. As I write, I see that my enthusiasm for taking pictures seems to dwindle towards the end of the trip! Had I planned to write a trip report while I was at WDW, I would've been a little more diligent. I do have a picture of the Martini flight at the HBD, and an amusing one that the boys took to commemorate our afternoon ransack while they were waiting for their D'Luxe Burger take out. These two pictures pretty much sum up our day. Note to myself: next time no drinking before shopping!

Day 15 – August 27
Today is our last day at the Magic Kingdom
Let's enjoy those rides one last time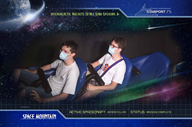 Lunch was a short monorail ride away. Did I mention how much we love dining at the resorts?

We had sushi, a pork belly dashi, a rainbow poke and fried duck rice with leg confit. We washed the food down with POG juice and a Hawaiian Mule. At the end of the meal we rolled down to the Poly lobby to sit back and soak in the atmosphere for a bit while waiting on our Lyft back to Old Key West for a digestive nap, which turned into a lazy evening at the resort.
Day 16 – August 28
So here it is, our last park day. We had decided to bid our adieu at Animal Kingdom, where the great food, rides, and animals would lighten MY heavy heart - the boys take leaving WDW more in stride. We had something fun to look forward to – our first time on Kali River Rapids. Never wanting to risk getting drenched, we had never been on it, but the water effects had been turned off because of Covid, so we got the chance to experience the theming and the ride. Finally! Even though we had spent 14 days in the parks on this trip, there were still attractions that we hadn't managed to fit in, some of which we didn't mind as we had been on them many times in the past like Dumbo or Under the Sea. But I was sad that we didn't get to see the Disney Society Orchestra perform at HS, especially in light of their termination, and I was miffed that we didn't get to take the zoom picture in Galaxy's Edge. Oddly enough, I also regret not riding It's A Small World! Finally, and I really don't know why, we didn't walk the trails here at Animal Kingdom, one of my favorite ways to spend some time. Anyhow, we really enjoyed our day here, and our lunch at Satu'li Canteen. By the way, has anybody tried making the crispy fried tofu bowl at home? It's on my list. Cooking tips are welcome!
Departure Day – August 29
Today's schedule looks like this:
9 am Breakfast - finish packing
12 pm Magical Express to airport – fill up at the Delta Skyclub in case plane food is, well, like plane food.
3:25 pm Delta flight to Atlanta – run like mad to catch connecting flight.
5:50 pm Delta flight to Amsterdam – enjoy the seats, might be last time flying business.
9:15 am KLM flight to Naples – are we excited to be home again?
11:45 am Taxi home – smother our puppy Daisy with love.
From the bottom of my heart, thank you for reading. If it hadn't been for you, I wouldn't have put together what turned out to be a very pleasant way to revisit and commit to memory this special visit to WDW.
Thanks for writing, it was fun to read. Sounds like a great trip!