Second round of sushi for the DS11s…
There was another piece of salmon that barely hit the table. Thus, the blurry shot. Server came by 30 seconds later "Oh, your nigiri still isn't here?"
Ha ha ha. This is me…. And this happens too where people take a bite and I have to try and strategically take the photo so you can't tell
Yeah, notice the back part of the calamari plate…
Ha ha ha. I did that with the salad here…
Sometimes I do it myself take a bit and go oops. I just get so excited about food. Hence my size cuz I do promise I work out. Lol.
Oh. Wait. I forgot.
Something else significant happened today. Let's play…Name That Virtual Queue!
I got in the virtual queue at 11:09am. Estimated wait 210 minutes.
Anyone?
Ding ding ding! We have a winner!
I got in the queue before brunch with about 4 different execution plans depending on when I got called back.
We got back to the hotel and I was just sorting laundry when the text came at 1:31. (Less than 2.5 hours!
)
I texted back I'd be there within 30 min. (Not acknowledged, no idea if it was received or necessary.) Got the first load of laundry in the washer and then executed a flawless solo extraction mission:

Actual wait in the physical queue was about 10 min.
So here's tonight's dessert:

Keep in mind I'm not a huge dessert person. That cake is insanely good. Make sure you have milk!
More data points: The cookies will keep on the counter for 3 days. They will keep 6 months in the freezer if you leave them in their individual wrapper and put them in a ziploc. The piece of cake did NOT count against my 6 cookie limit.
Cookies and cream is one of my favorite flavors so I think that looks amazing!
You know how some cakes look so much better than they taste? Yeah. Well. This tastes even better than it looks.
Oh, and it was so good to be back on Disney property for most of the day. We were in the Raglan Road gift shop and I look around and EVERYONE is wearing masks. Well. Except several members of my party. "Um, guys…???"
So much better than trying to minimize the twins' time inside the lovely AC and herding them away from others constantly.
Ok so I guess I have to go to DS after that glowing recommendation and @Jeff_AZ Boathouse review. Darn y'all!
Cookies, I'm so so. But that cake!
But what cookies did you get? We need pictures and a review of them.
In time, in time…
3 are on the counter. 3 are in the freezer.
The second half of the trip starts today with Day 2 of 2 at HS.
There was one other stop at DS yesterday…
And I was the procurer of the BG today…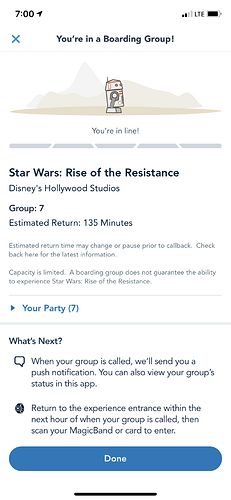 Off to park at the Swan…
Great BG! The doughnuts look yummy.
I liked the maple donut. I liked the bacon. I actually wasn't a fan of them together. The rest were excellent if a little on the sugar overload side.
I enjoy a sugar overload
I put my haul in ziploc and left in the counter and polished them off 7 days after purchase. The texture was definitely on the decline around day 6, but I still enjoyed them in the last day.
(Sharing in case others buy more than they anticipate and don't have access to a freezer!)