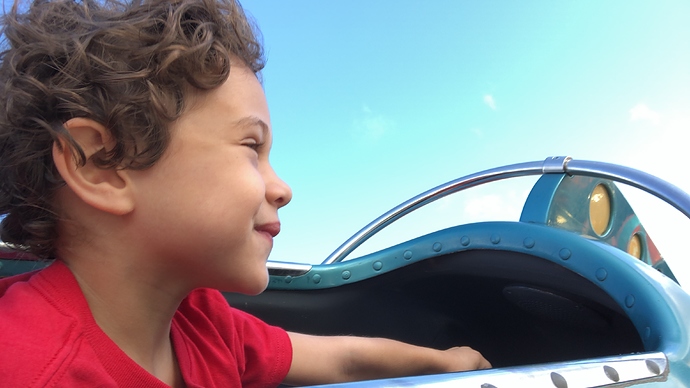 WDW/Universal Trip Report, 10/20-10/27
We had an amazing time on our trip, with lots of planning help from this forum. Here is a short summary of our trip that I hope will be helpful for others. I'm writing up our arrival day and Day 1 now…will follow up with other days later
Arrival Day
We landed at MCO on 10/20 around 2 pm. Line for magical express at MCO seemed long but we only waited about 20 min to get on a bus. We were arriving at the GF around 3:15. Got a room-ready text while we were on the bus. Zero success with room request fax through TP. My only request was to have a room NOT over the atrium (club level lounge) at Sugarloaf Key, and sure enough, we were directly over the lounge on the second floor. We could hear the constant din from the lounge, clatter of plates, vacuum cleaners, people talking until 10 pm at night. Fortunately we were pretty much at parks or the pool all day except for naps for DS5, who is a heavy sleeper and did not bother him at all. I complained and they gave us a large fan for white noise and offered to move us the next day, but by then we were totally unpacked and between the box fan and my earplugs, I slept fine. I just didn't want to spend any of our precious time there packing up again and unpacking. However, I would say that such a room is totally unacceptable for what you are paying for club level. If I had known what it would sound like at 9 pm, I would have refused to take the room when we arrived at 3 pm. By comparison, at the Hard Rock, there was literally a concert going on in the lobby directly above our room on Friday night and we couldn't hear it at all.
So on arriving, we hit the pool for an hour and I had 3 FPP's to use, so we went to MK from 5:30-7 to use them on PPF, HM, and Meet Elena. It was pretty crowded (Saturday on a non-party day) but it was good to knock out three rides before our true full MK day and we had never been there at night before.
Day 1
The next morning we RD'd MK on a CL3 day. We were doing the Club level FPP program where we had 6 FPP's most days and no tiering/park limitations. We were leaving our room at the GF at 8 and in MK by about 8:15. Took no time to get through security at GF, ride monorail and get through taps. We were nearly at the rope to Tomorrowland. We had extra Mickey Ears from our 12-pack from Amazon and the kids and I walked around handing them out to little kids who were not wearing them. My kiddos got a kick out of making other kids surprised and happy and the parents were so appreciative. At RD, DH and DD7 did Space Mountain (no FPP) as that was a first for her. I didn't bother getting a rider switch pass for Space b/c we wanted to get right on the AO and I find Space to be really rough. DS5 and I were the first people in line for the AstroOrbiter (a tradition for us), which we got to ride 2x without getting off. Then we went straight to Buzz and finished at the same time as DH and DD7 got off Space (9:20ish—exactly what TP predicted). Walked to 7DMT for our 9am FPP; DD5's first roller coaster at Disney and he loved it. I had bought large acrylic jewels on Amazon (same color as the jewels on the ride) and DH and I "found" them as we rode—the kids were amazed and blown away when we handed them to them on the coaster. In line I had also handed two to the family behind us and they were over the moon to pretend to "find" them and hand them to their kids.
Then we rode teacups (walk on) and were in line to meet Gaston at 9:50. He came out at 10:05 and I was disappointed with him. Had heard lots of good stuff about Gaston interatctions and I guess this was the luck of the draw. My son wore a Beast Shirt and he didn't really react to it; his "jokes" were sort of under his breath and definitely over the heads of my little ones, aimed to a much older audience. Total encounter was about 90 seconds. Kids still thought it was fine but they never mentioned it again; forgettable. Too bad. We went to Splash to find out it was down and converted to an anytime. But our BTMRR was not for another 35 min and we were all the way in Frontierland. I was unable to modify it to make it earlier, and kids were STARVING, so we headed back to BOG where we had an 11:35; did Philharmagic on the way, and then ate. After lunch we felt much better but had basically missed our BTMRR window. I knew from this forum that if we tried to use it during the grace period, it would use our anytime FPP from Splash, and since Splash was more important to us, we did not risk trying to use BTMRR during the grace period and went to Splash instead, which fortunately was up and running. Kids loved it. We did that and then headed back for naptime.
DS5 napped and we got a MinnieVan to HS around 3:30; the kids enjoyed riding in Minnie's car and the CM was great. We did a couple of Minnie Vans and the most we ever waited for one was 10 min. they are pricey, though, and for the most part the buses were pretty quick. We had a 3:40 FPP for Star Tours, which we did at 4, and the kids enjoyed, and then went to Beauty and the Beast for the 5 pm show. I was nervous we were arriving late for our FPP return time (supposed to arrive by 4:45), but when we arrived, the CM asked if we would like "something better than a FPP" and they made us VIP guests. My daughter was given a toy rose and a certificate and we were seated right up front behind the handicapped seating. That was a special magical moment. Loved the show. Then went to TSL for SDD FPP at 5:40.
I have to say, SDD far exceeded expectations. I had read it was kind of like barnstormer-meets-7DMT, but I found it head and shoulders above both of those rides and not comparable at all. It was longer than both, very smooth, very creatively designed, awesome twists and turns, great drops, loved the stop-and-go mid-ride……totally wished I could do it again. My whole family loved it. I would say it is my favorite roller coaster at all of Disney. (DD7 loved Everest just a touch more).
Then by contrast, TSMM was only "meh" for me, after all I had read about it. I think the mechanisim of firing the gun was a little tough for my DS5 to grasp; he didn't get the pull-and-release action of the ball attached to the "gun". It was only okay.
We ate at Woody's Lunch Box; brisket sandwich was decent and grilled cheese pretty good with a garlick-y flavor. We didn't try the Pop Tarts but they sure looked good. I wouldn't necessarily eat there again for the cuisine but we wanted the experience.
TSL was fun, whimsical, and beautifully designed. It was also a Sea of Humanity on a CL 6 day (granted it had been an EMH day in the morning) in the evening. We were beat and decided to skip F! even though we had planned on going. DD7 was not feeling well after the huge day and I called as we were walking out of the park and they graciously refunded our dessert party tickets. The thought of dealing with a mass exodus post-F! was just too daunting for us, and the buses are a relatively far walk. Fortunately a bus was departing for the GF just as we arrived, so we made it back quickly, and fell asleep easily once we got that box fan from the concierge for white noise.
Overall, once we were actually at Disney, as opposed to me planning it for the past six months, whether we made any given ride or attraction seemed a lot less important. We just loved finally being there and missing BTMRR or F! simply was not a big deal. The weather was great, the kids did not have colds, and we were at Disney. It was magical.