Just joined the line for checkin. It's already back to Toothsome, so will aim to arrive earlier tomorrow.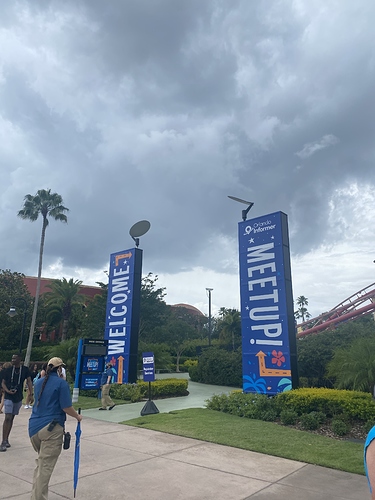 Tickets and wristbands acquired, officially into US! Rain has held off, so planning on the fly.
Gonna hang in US for a bit. Popping into Tribute Store and then just gonna hit whatever lines are shortest.
Wow, so moving fast huh…that's good. Looks like they have a good system in place.
Yeah when we walked up to the huge line I was thinking it could be an hour just to check in but they cranked through it. Probably won't adjust plans for tomorrow much.
Tribute store is great, and overall crowds don't seem terrible (regular hours still) although wait times are longer.
Taking our time walking through the New York area and appreciating the details.
We walked over to catch the 4:15 Bourne Stuntacular show and were one of the first groups loaded.
I watched a video walkthrough of the tribute store and I swear I have never seen so much detail put into a theme park store in my entire life. It looks amazing!
Yes, exactly! They've done such a good job with each version of the store. I will say if you're trying to shop, it's pretty dark and hard to get an idea of colors. I saw a cute shirt that I thought was a coral color and we turned on the phone flashlight and it was bright yellow
Whoa! That's quite a difference!
Being told to "fill all available space" which is a step toward normalcy, but also feels so strange after all this time!
I love that store. Have to check it out if we ever get out of Velocicoaster
Bourne Stuntacular is very cool. Well done incorporating the screens in a realistic way. Also impressive that there aren't crappy seats (lookin at you Soarin).
Exited to rain, so putting on coats and ponchos and figuring out next step.
Ran to Monsters Cafe which is one of the Bonus Bites areas to wait out the storm. Probably not the best idea, sneakers are pretty soaked now. Brought an extra pair of socks at least.
Definitely not the only ones with this idea, so in line to get in now.
You can get as much food as you want from the Bonus Bites, but can only enter one location. First time through the line they were out of wings and we had already gone past most of the other food so we just had celery/carrots, fruit and a cookie
.
They've got the freestyle machines open for drinks so getting some caffeine.
Food itself is fine but nothing special. Would have preferred the dining card they've done in the past so we could try a more interesting location that's not open later tonight like the crepes or Today Cafe.
There was a line the first time through that took a bit (~15 min) but I think that was more a symptom of the rain than crowds.
Okay 30 min later and still no chicken so we are bailing. Had a piece of pizza or two to tide us over til the free food but I'd call the bonus bites a bust.
Now heading to FatF because it's a 5 min wait and…why not?
Oh no! Don't do it. I abhor that ride. Lol. Have fun avoiding the rain though.
Hahah it was very very cheesy, but short and amusing at least. The wait was just the time it took to walk through which is probably all it's worth.
If they would just get rid of the dumb party premise and focus on the racing.
Oh yes, the whole intro scene is awful.