Imagine all the marriage counselors out there who were not prepared for Disney mug mediation
This is so pretty and captures such a perfect Disney moment.
Is it new? Have you had it for a time? Where did you get it?
I think I actually bought it in 2007. I bought my everyday mug in 2005 on my first trip. I bought this one to use when that one breaks. This is still waiting!
I have always been a Cinderella fan and I love this mug.
I buy a mug every trip for my husband. My house is filled with mugs
. I cannot wait to add more!
I have to say that my husband and I love to collect mugs! I'm sorry your spouse doesn't feel the same way!
I am a LMFT (licensed marriage and family therapist) and using this as research
ETA: I had to do some mug mediation of my own with DH.
I thank you for starting this post!! So glad to see all the beautiful mugs everyone collects. I have looked over them 3x now.
I notice I need to start collecting the WDW ones now
Haha. To be fair, DW is perfect in every way with the possible exception being that she is the opposite of a hoarder (purger?) to the detriment of my mug collection.
You've won the thread. The rest of us are just playing for second place.
@93111tink, your glasses, I think I see the jam/jelly glasses? Are the other ones from this series, or a DL version?
Hi!!
I know I have this set of 4 somewhere around here but cannot find them. I do admit I am a bit of a hoarder… I mean collector of mugs cups and sippers. i swiped these picture from pinterest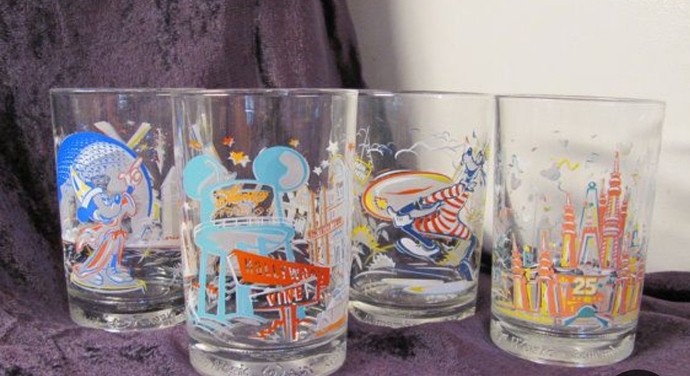 I think these were the 25th anniversary of WDW. I don't believe they made a set for Disneyland but now I will be looking for them
Also not my photos but I do have some of these Welch's jelly jars. So cute and great for juice!
Yes! The Welch jars! I remember from when my son was a baby! I think my sister got him this around the same time as the glasses (the 25th)
I'm a little late today. These are not mugs, but they are Disney. These were from a Burger King collection from some time a long time ago (1994). The backs have a little write up about each movie.

Shhhhhhhhh! This isn't my mug. This is DS16's super special mug that no one is supposed to even touch. He got it a few years back when we got off of GotG and had to walk through the gift shop. He saw this a his eyes lit up! So of course I had to get it.

ETA: don't worry. The universe is safe with us.

:::dies:::
When I was looking at my collection yesterday and found that mug I thought of you.