You've won the thread. The rest of us are just playing for second place.
@93111tink, your glasses, I think I see the jam/jelly glasses? Are the other ones from this series, or a DL version?
Hi!!
I know I have this set of 4 somewhere around here but cannot find them. I do admit I am a bit of a hoarder… I mean collector of mugs cups and sippers. i swiped these picture from pinterest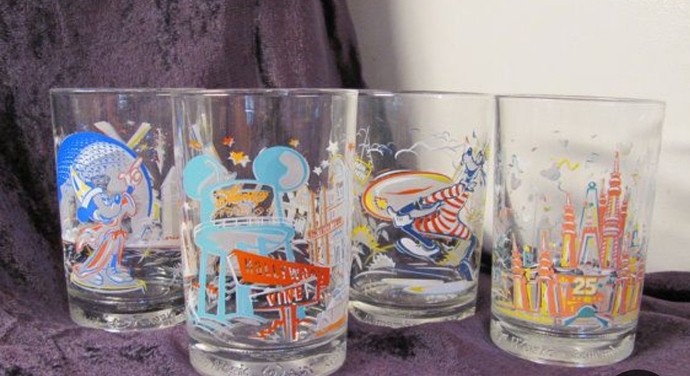 I think these were the 25th anniversary of WDW. I don't believe they made a set for Disneyland but now I will be looking for them
Also not my photos but I do have some of these Welch's jelly jars. So cute and great for juice!
Yes! The Welch jars! I remember from when my son was a baby! I think my sister got him this around the same time as the glasses (the 25th)
I'm a little late today. These are not mugs, but they are Disney. These were from a Burger King collection from some time a long time ago (1994). The backs have a little write up about each movie.

Shhhhhhhhh! This isn't my mug. This is DS16's super special mug that no one is supposed to even touch. He got it a few years back when we got off of GotG and had to walk through the gift shop. He saw this a his eyes lit up! So of course I had to get it.

ETA: don't worry. The universe is safe with us.

:::dies:::
When I was looking at my collection yesterday and found that mug I thought of you.
Sorcerer Mickey is Best Mickey
whoa… posting catalog pictures of mugs is a game changer
Uh oh. Looks like a new mug for me.
Update:. I have seen the new additions on shopdisney and I'm in trouble.
very nice!
Is that the hatbox ghost mug beside Mushu?
It is! He appears when there is hot liquid inside.
Add to cart

Actually, @feep beat me to it.
Oh I was really tempted to pick him up… although I have a terrible track record with those thermal-changing-mugs
Starting the day off with a Mickey mug. It's kind of sparkly, and I need that kind of positivity today. (DD14 keeps getting up early to get schoolwork done. @feep and I are going to need a new photo spot if she keeps up this hooliganism.)