That bad boy (or girl) has been fed right
That is the stuff nightmares are made of …
Not on twitter, what it be?
A video of a gigantic alligator walking near a body of water in Naples, FL.
Meh, just throw some mouse ears on it, and charge admission. Maybe put a lil' $12.00 hot dog stand next to that lake. It's Florida, I bet I could find someone to strap mouse ears on it for a couple bucks a day.
I think I saw that, on a golf course? Haha, swamps all around me. I've seen bigger! (TWSS)
No, it looked more like a residential neighborhood to me.
Maybe it was. I only was looking at how high that big thing was walking, looonnnggg legs, not a squatter like some.
@mousematt not uncommon in my neck of the woods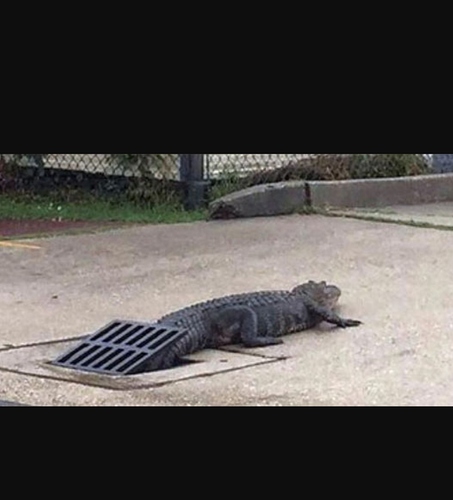 He didn't care for the feel of wet grass on his tummy . .
They walk like that to move a bit faster if needed. They are actually weary of humans.
Looks like he takes his leg days serious!
It was the size of a horse. With a tail the size of an alligator.
Holy crap. No no no.
It's a golf course (you can tell he is at least starting out on a green, there is a difference in the grasses). With a neighborhood adjacent to it. Very common in Florida.
I thought it was a golf course. Heck we have city park that has a golf course but gators are swimming all in the lagoons. Its not uncommon. I am making this # up but I bet for every gator u see or hear about at Disney (and they totally cover this up) there are hundreds in the area. They really dont like people though.
Just consider it a mini Jurassic Park adventure…
I just saw it on TV. It is a golf course in Naples, FL.