Deb, are you doing Star Wars Nite? I have 2 tickets for Star Wars Nite but not sure whether to do May the 4th or pay extra for 5/27. Wish I knew more about what's going on on the 27th.
Hey Darcy! I am! I have tickets to both Star Wars nite and Villians nite. We will be doing Villians on the 8th and Star Wars on the 4th of course
So excited! Ive been on the phone waiting to change my tickets over for the last hour and 17 min. If I hear that damn veggie veggie fruit fruit song again Im gonna lose it
i think the 27th might be more because it's a Friday
Fun! Thanks for posting this.
I went to look at tickets, but it appears that tickets don't go on sale until January… but you have tickets already? I can only guess you have them from a previously cancelled event.
I just now got off the phone with Disney but have my tickets straighten out.
2 dropped calls. Well, one guy hung up on me because I think he didn't know what to do​:rofl:
They canceled these events right after Covid. Disney at first offered refunds to those who wanted them but I held onto them. I am so excited they are back!
Excellent. That makes sense that you already had the tickets. Have a great time at both the events!
I have my 2020 tickets and am just ginning up the courage to call in to change to 2022. I will have to pay the upgrade charge.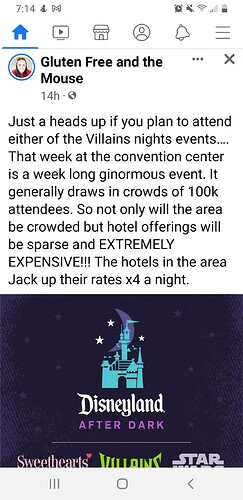 I cant believe the prices for these nights! $179 for the basic Desert inn room thats usually $99!
Thankfully as soon as it was announced I made my reservations at $139 and $119
I quickly made my reservations for May the 4th for the Star Wars Nite. Staying at Grand Legacy with DH. Now I just need to find time to call to exchange my tickets. But flew home yesterday from visiting my DD in Seattle. Today doing laundry & packing again to fly out tomorrow for DL!
If you can have the confirmation number handy it helps them alot. I didn't but had the whole ticket number. I put them in my Disney " wallet" and thank Walt I screenshot them because I had no email or receipt and they disappeared once the events were canceled. It took a bit longer for them to pull it up but I got all 4 of my tickets exchanged and I should be receiving them in 5-10days
I have a screenshot of my tickets & they have a confirmation code on them. Hopefully that works because I don't have the email anymore.
I called in this morning and upgraded my Star Wars nite tickets for the May 27th event (during Star Wars Celebration). They charged me $66 per ticket above what I had already paid ($109).
But I still shelled it out willingly.
The whole process was quick - the entire call, including a few minutes on hold, was 12 minutes. The CM was very friendly.
I'm excited to go!
Is the upcharge because it's a Friday? They should have waived it as a Thank you for waiting so long!
It's probably the upcharge because it's the only one during Star Wars Celebration. I agree they should be paying me for my interest-free loan for the last two years!
I heard that!! It really takes alot for me to complain to a company but I actually sent a letter last month saying how disappointed I was with they way they were putting out new events while still holding almost $600 of my money for events that need to happen first
I called to convert my old Star Wars Nite tickets to the new ones for 5/4 and they answered immediately! Only took about 10 minutes to complete! I was surprised it was that easy.