New Nemo, or budget Lion King? Can't schedule both.
Isn't Lion King meant to be back to full swing soon??
Irrelevant. Not when I'm there. Unhelpful.
Boo
This so goes against my absolute love for FotLK, but maybe you should try the fish show until your next trip when FotLK is actually back to normal.
A local friend saw the new show a few days ago and shared this…
"It was really good. A little shorter and I missed a few things like the giant pelican but other than that, BEAUTIFUL!"
Also commented that the stage got "a complete upgrade" and she thinks the actor playing Crush is the same from the previous show.
I've not heard anything negative thus far.
But the reduced schedule, dropping the first and last shows, is only showing through today. Tomorrow and beyond still show all six showings. Of course that can change daily.
The problem with the fish show is that it traumatised me the one time I actually saw it during my first trip. I didn't know the plot (I don't watch Disney movies: I'm not an eight-year old girl) and the idea of losing your son and having to find him (oh! that's where the title comes from) really upset me.
Are you kidding here or is this the truth?
The fact you call it this make me happy.
I'm actually not kidding. It really did. It made me think of Calvin and how I'd feel if I lost him.
Awwww.
I don't like Finding Nemo.
But Finding Dory redeemed the franchise.
We will probably watch this fish show bc - A/C.
I am hoping DD17 forgets FOTLK is a thing (she won't) because every time I sit there I think, "WHY am I sitting here AGAIN? So help me, I will NEVER do this again."
TBH I agree. I've never really understood the love for FOTLK. I'm only interested in the new fish show because I heard they'd upped the production values and I thought it might be a good spectacle.
I'll be there on 6/24!
I think the singers at FOTLK are outstanding.
But it's just so much same-old-thing after I sit down. And I don't want to pretend I'm a warthog or giraffe again.
Ever.
Well I have good news for you. This part is not currently part of the show.
The Tumble Monkeys return at the end of July. I remember being disappointed they won't be there for our mid-July trip as while Lion King was OK without them, we think they're the best part of the show…
I saw some bits of the Fish show and really want to go and see it. I've seen the lion show 2x and not interested to ever see it again
What I saw of the Fish show looked cool. This is a very short bit that doesn't give anything away but allows you to peek at the puppetry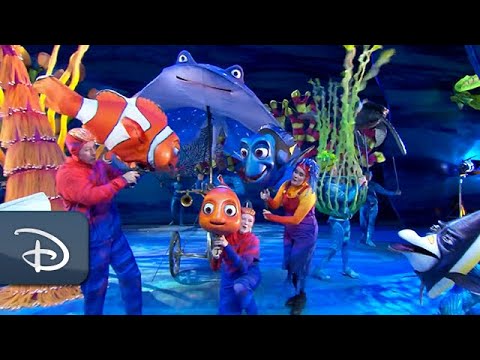 I have always loved FotLK and plan on seeing both shows; but if I can only fit one in, it will be the new "fish thing" as I have never seen it.