Recently, I decided that I will do a live report during my upcoming WDW trip to run the Dopey Challenge. I will share that with real-world friends and family, and will promote it through my running blog as a way to raise money for charity. I've been looking around at alternatives, and I've concluded that this forum's software (Discourse) is best suited for live reports, at least in my opinion. No surprise there. Furthermore, I can't think of a better "host" community than this one. You are my people, after all!
However, over the last year I have shared quite a bit on this forum (I started 56 topics, really?!?!), and I don't have time to go back and read everything I've ever said. So, I thought it would be prudent to create a new account and go forward with this more "public" audience in mind. Now, I'm sure some of you will be able to figure out who I am, and I ask that you please do not tag my old username. You can PM if you really must know.
I don't have time today, but soon I will give you what you want - a pre-trip report. In fact, I'll give you two. Not only am I running the Dopey Challenge in January, but I'm also running the Wine & Dine Half Marathon in November for St Jude.
A year ago we had planned to go to WDW over Halloween to celebrate DS3's Cancer recovery, but we had to cancel that because of complications related to his surgery. Actually, we just postponed it by a year. With this extra time, I've managed to put together a plan that is far superior to the previous, and even includes all four grandparents. DW's parents are joining us at Boulder Ridge for 4 nights and then my parents are joining us at Boardwalk for 4 nights. This is probably starting to sound familiar to some of you. Here's the current itinerary: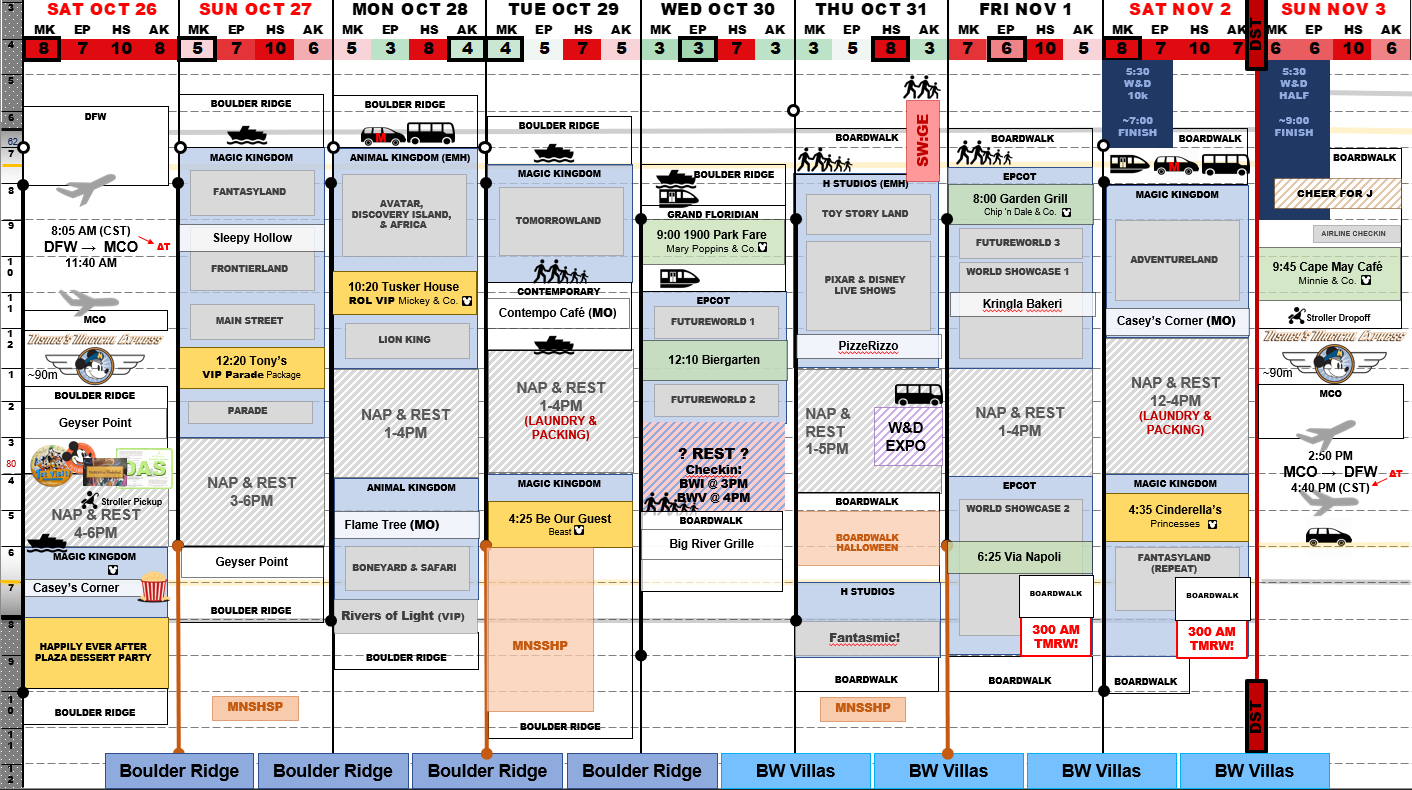 Although it has nothing to do with WDW, I'd like to close by sharing a blog article I wrote last week to commemorate my son's 1-year anniversary of being Cancer-free. Feel free to ignore, but some of my friends and co-workers were moved by it so I'm sharing it with my Liner friends as well.