We decide to take an afternoon break and I come back to the dreaded letter… I'm not ready go back and face reality tomorrow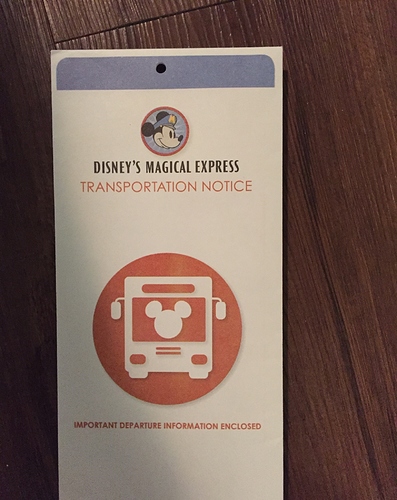 Hahaha don't put thoughts in my head! I might actually be tempted to do it… I think DW would not be too happy about that and telling her that tinker bell told me to do it won't fly
Day 3
Preface: Day 3 was all about doing a TON of rides while dodging massive MK crowds (likely a very solid CL 8 day) with EMM and then lots of FPP and zero standby lines. (We did 16 rides in 6 hours in the park. That works out to 1 ride every 22 minutes).
7DMT (EMM)
Pooh (EMM)
Peter Pan (EMM)
Peter Pan (EMM)
Carousel (EMM)
Teacups (EMM)
Under the sea (EMM)
7DMT (EMM)
Splash (RD)
BTMRR (FPP

#1

)
7DMT (FPP

#2

)
Splash (FPP

#3

)
— Afternoon Break —
— Dinner at Kona —
Pirates (FPP

#4

)
Pooh (FPP

#5

)
Teacups (FPP

#6

)
Dumbo (FPP

#7

)
— HEA —
Here's how it all went down.
After staying out until 11:30 pm last night, we were up and out the door at 6:45 am for EMM at MK this morning. I had planned all along to take a Minnie Van from BCV to MK for EMM. I did not expect that there would be such a huge demand for them at 6:45. We had to wait until 7:20 before one arrived. Word of advice: don't depend on Minnie Vans to save you time during busy days.
We still got to MK in time for the 7:45 am EMM event. Now that EMM includes pretty much all of Fantasy Land, it is a VERY valuable experience. From what I could tell, the EMM crowds were even lighter than the DAH crowds at HS last night.
During the 75 min EMM, here was our final tally: 7DMT (2x), Peter pan (2), Pooh (1), Teacups (1), Under the sea (1), Carousel (1).
EMM also includes breakfast, which was pretty substantial. It's hosted at Ray's Starlight Cafe, and it includes a prepared plate of food plus a buffet of pastries and fruit. When you factor that, plus 8 rides, into the cost, it's not a terrible deal.
At RD, we went to Splash and managed to be about the 3rd party in line.
Then, we used our 3 FPP to do BTMRR, 7DMT (again), and Splash (again). We also tried the new Hei Hei ice cream cone, which is basically dole whip plus some sort of red sorbet and 2 eyes made of pure sugar… delicious!
It was now about noon and the park crowds were insane. So we took the bus back to BCV and DS4 napped for 2 hours.
We returned to MK at about 4 pm to eat at a QS restaurant, because I couldn't find a decent ADR. But, lo and behold, as we were standing at Cosmic Rays for one of those terrible burgers, I got an ADR at Kona Cafe by continuously refreshing the MDE app. We booked it over to the Poly, where we got some pretty quality sushi.
Then back to MK for some grab & modifying of FPP. We managed to get 4 more FPP between 6:00 and 7:45 pm (Pirates, Pooh, Dumbo, teacups). Listening to other people around me talk about FPP makes me laugh inside. You want to enlighten them to all your FPP tricks, but then you realize you should keep them secret among Liners and other die hards.
Finally, we went to the HEA Dessert Party, which is also a smart move on a CL 8 or above day. The Ooey Gooey Toffee dessert alone is worth the cost of admission!
What a fantastic way to say goodnight!
Although, after seeing HEA and F! in back-to-back nights, I have to say F! holds a special place in my heart. This is probably an unpopular opinion, but I think F! is the all-around more impressive show, between the live cast, the soundtrack, and the water and fireworks display.
You're probably thinking we went a little too far by doing the F! dessert party, HS DAH, MK EMM, and the HEA dessert party. But, consider it was just me plus DS4 who costs much less than an adult. Also, with the AP discount on DAH, it saved a big chunk of money. I mostly did it because CL were predicted to be 8s across the board, and honestly, it's a bigger waste of money to buy tickets and do all of 6 rides in a day and waste 2 hours staking your claim for HEA and F! (Maybe I'm just justifying the cost to myself, but we really did enjoy these experiences!)
Good night everyone, see you tomorrow!
What a fun trip!!! You two make a great team! Thanks for writing!
I personally loved your trip report! Thank you for sharing!
Mornings in the World are the best! Even if it's your last day.
Thanks for following along. It's kinda funny that I've never met any of you in person but it feels like Liners are a little like family, who you can share your crazy Disney obsession and experiences with, and I'm thankful for that!
Thanks for reporting! It was fun to follow along— how's you like Beach Club??
What a great trip! Thanks for sharing!
I almost enjoyed it more than the Poly. The location is really perfect especially if you're a big EP fan. We were planning on spending a lot of time at HS and EP so it was great!
As I mentioned earlier, I found the CMs to be much friendlier and more "in character" (like "the captain").
Rooms were a little smaller than the poly. I can't see how it sleeps 5 comfortably.
But I'd stay here again in a heartbeat.
Awesome… we were at Poly last time too… if our stay is long enough, I am thinking of a split stay.
Great report. Thanks for sharing. I agree about Liners being "family" ohana!
After I posted, I was thinking I should have worked that in there somehow! Btw I like the new profile pic!
thanks. I figured since all the folks in my old pic (DH and 2X DS) are now about 15 years older, it was time
So glad you had a great trip!
So glad you had a great time!
Takes every bit of me to not say something. My wife (the actual Amieintx before I stole her username) noticed me cringing at a couple of FP conversations going on behind us.
Loved the report.
Loved the trip report!
And now trying to see if I can convince DH to do EMM at MK on our adults-only trip next week
Do it! You won't regret it! With the crowds as they are for spring break you'll be happy you did! Trust me on that one!